JOHN BATDORF & JAMES LEE STANLEY: All Wood & Stones II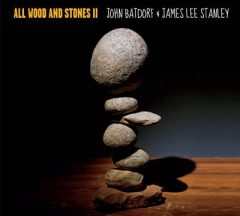 Ladies and gentlemen, the Rolling Stones…or more precisely the band that with the Kinks were the favorite bands of this author, until the fateful days in 1973 when they released Goat's Head Soup, (with the Kinks quickly doing even worse, with Preservation Act 1). Well, no band is perfect, and over their 50+-year run the band featuring a singer with the biggest lips in rock and an indestructible guitarist has piled up both money and classic rock hits like no other group.
Summer is the season of sequels, and John Batdorf and James Lee Stanley have released All Wood and Stones II, which follows the template of their 2004 disc in covering well-known tunes by the iconic British band, rearranged with acoustic guitars and harmonies for a sort of "California/roots" sound. While the first disc boasted several guest guitarists with an emphasis on very early, pre-1968 material, Batdorf and Stanley do all of the singing and guitar playing on the new disc, and tracks include both early cuts and songs from middle period albums. Given that some of the tastiest choices are already on their earlier album, the songs are solid. "Honkey Tonk Women" is sung with relish by Batdorf over beautifully picked acoustic guitars, with string harmonics and layers of nice soloing, which shows why there's no need for big name guitar session men. An interesting rearrangement dumps the disco feel from "Miss You," as the chorus becomes a harmonized "Ooh, where you been so long," and Stanley's vocal conveys a dark loneliness.
After essentially reducing "Get Off My Cloud" to an acoustic "Hang on Sloopy," the crown jewel of Stones singles — "Jumping Jack Flash" — gets a straight-ahead version, which acknowledges that Keith Richards' killer rhythm guitar on the 1968 LP was recorded on an acoustic guitar. Stanley's strong vocal does the tune justice as does a slash-and-burn acoustic guitar bridge à  la Steve Stills. Richards also played acoustic on "Play with Fire"; here, two finger-picked guitars lay down a tapestry of sound and the two singers sing tight harmonies for a standout track.
Sorry, Stones fans, but do we need another cover of "Sympathy for the Devil?" The version here isn't bad, but the song's drums and percussion just remind of how good those on the original were, and no singer will ever match Mick Jagger's savage vocal. On the other hand, "Wild Horses" is a timeless, brilliant song, and Batdorf delivers a rearranged version that changes it up but keeps the yearning heartbreak of the vocal intact, while the backing manages, without slide guitar, to sound like ten Martins at once. The earliest Stones tracks were all covers themselves, and here perhaps the best "Time Is on My Side" gets a reading that starts out with a Stanley-sung, harmony-dominated vibe, then its true nature as an R&B number gets a couple of verses of acknowledgment as it ends with a subtle shift.
Fans of the Stones won't be disappointed with All Wood and Stones II, nor will any lovers of good acoustic music.