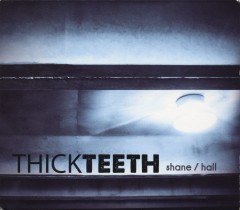 There is more than one Shane Hall in the music business, and Carlsbad singer/blues guitarist goes by Shane/Hall on his new CD Thickteeth. For the past few years on both coasts he has fronted the power trio Shane/Hall and the Diabolicals, playing original electric blues music that features his strong and soulful vocals and rhythm-dominated guitar hooks. His latest disc, cut last year in North Carolina with studio musicians, has 11 tracks of Hall's unusual brew of dark blues gumbo. It isn't a total nostalgia trip into Muddy Waters territory or the deep Delta, and while it isn't a Stevie Ray-clone guitar showcase either, it offers enough tasty glimpses of both to keep the listener engaged.
What makes it all work are Hall's voice and songwriting. He has managed to carve out a sound that doesn't really sound like any other band or artist out there, and his expressive vocal on "Can't Hear You Talkin'" trumps artists like Lenny Kravitz who have tried the post-Hendrix power-blues format and fallen short: Hall not only plays the ballsy blues guitar, but has the vox to match as well. The energy remains high as "Dear Nemesis" keeps the hammer down with an urgent beat and layered guitars. On these tunes and especially "Ricky Black," Hall adds some tasty lead guitar fills; these are fine but this disc isn't really about his shredding prowess — "Ricky" is more concerned with his tale of a young guitar-playing outlaw. "Soft" goes for a slow-tempo, catchy highlight with just a hint of echo in the vocal: "A touch, a taste no matter the place/ It all fades away in our haste"; Hall can write a verse too.
The second half of the disc packs more power. The title track is down and dirty, with a serious blues slide-guitar riff anchoring matters. Hall lets this one resonate, wrenching the power from the chord changes, and it works very well. "Queen of the Night" follows, a stomper that rides another insistent drum/guitar hook that might not be out of place on an early ZZ Top disc — it has power chords on top of the power chords. Hall sings "I took his knife outta my back/ I'll wipe it clean 'cause I'm gonna give it back" in "Boot Knife Blues," which is a rolling boogie that Hall dresses up with some sharp lead filigree and a chorus of "this blade's for you." Closing the disc is "The Imperial," a quieter, acoustic guitar song that has some of the same sense of foreboding darkness that Hall infuses in the other tunes here.
Shane/Hall establishes a clear musical identity on Thickteeth, a bluesman with serious intentions, playing hardboiled music with a gritty edge. Blues fans should love it.
Available through www.facebook.com/shdiabolical