TROUBLE IN THE WIND: Slide Rock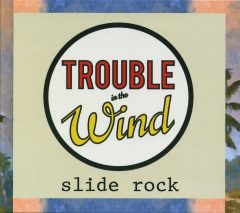 North County alternative rockers Trouble in the Wind's last full-length CD, 2011's No Work Dancing, took their rough jumble of country influences and new wave vocal inflections (lead singer Robby Gira owes a debt to two Davids: Bowie and the Talking Heads' Byrne) to a new level with some clever arrangements and fully completed musical ideas. Then, they won Best Musical Talent at the 2012 Musicpalooza competition at the San Diego County Fair.
They are back with a new full-length CD, Slide Rock. Again, Gira writes songs that try to cross genres, backed by guitar/accordion/banjo player Kyle Merritt, double bassist Trevor Mulvey, and drummer Larry Doran. Also back are the low-tech home studio quality of the recording and Gira's now occasional tendency to howl in overwrought anguish on some of the vocals. This disc is generous — 16 tracks — and there's info on the web that they trimmed this from 30. There isn't any attempt at a magnum opus on the disc, given this many songs competing for attention; the whole thing wraps in well under 44 minutes.
"Big Escape" opens with plenty of coughing and studio noise to set to rest any notions of clean production, then moves into a pleasant acoustic guitar-driven rocker that is catchy as hell, driving a hook home as Gira sings urgently. The single from the album is radio-friendly "Taken," with a guitar riff nailing a memorable melody as Gira sings of how "I try to keep a cool head" in the presence of a lover, while Merritt lays down a tasty guitar solo. Not everything clicks this well; "When You're Drunk" is disposable filler and "Nights Like These," an attempt at a mid-tempo ballad, is spoiled by Gira's baying moans. "Grumpy" is much better, a straightforward pop-rock tune played without pretense and with an impressive play-out on guitar by Merritt, who seems in his element throughout.
While their last disc had a definite country direction, some of the laid-back efforts this time seem like song fragments ("Through and Through," "Home"), though "Horse's Back" isn't bad. More evident are influences like Lou Reed and Bowie, especially on "Foxy" and "Glow In the Dark." These sound like they were originally part of the same song or suite, with "Foxy" being a Velvet Underground-style homage to leather and love in the back seat, and "Glow" being slowed a bit, with Gira in deep Bowie voice singing "In this fancy ballroom no one wants to dance with me/ 'Til you took off your costume and we took off and hit the street," the arrangements of both tunes have just the right touch of early-'70s decadence.
The disc's highlight, "Long Island Girl," is a drop-dead catchy rocker, with nifty guitar work again and Gira doing a great vocal; it is a summer radio tune that jumps out of the speakers. Not bad either, "At the Seams" works another hummable groove and chorus.
Slide Rock rocks, marking another step forward in the development of one of North County's most promising bands.
See Trouble in the Wind, along with Tolan Shaw, on Thursday, May 15, 8pm, at the Belly Up Tavern, 143 S. Cedros in Solana Beach