MOLLY TUTTLE & JOHN MAILANDER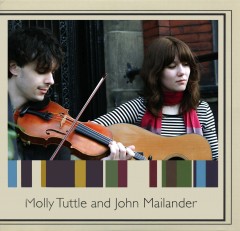 An adept flatpicking guitarist, as well as a gifted singer, Molly Tuttle is a truly remarkable young talent. Even at her very young age, she is a veteran of the stage, performing professionally at the age of 11 and releasing her first CD when she was 13. Though she is busy with performing and songwriting, she is currently a full-time student at the Berklee School of Music in Boston. San Diego-based John Mailander is a similarly talented young musician. Also trained at Berklee, the fiddler has performed with the San Diego Summer Pops, Darol Anger, the Alison Brown Quartet, as well as many other notable performers.
Tuttle and Mailander have teamed up for a new EP of five tunes, simply titled Molly Tuttle & John Mailander. Filled with fresh takes on old traditions, the recording is a delight from beginning to end.
As a flatpicker, Tuttle avoids the bluegrass categorical imperative, developed and enhanced over generations, to play at lightning speed, musicality and good taste be damned. Though she does play those sixteenth notes like any country guitar slinger, her lines are musical and filled with wonderful melodic surprises. She is an equally talented claw hammer banjoist. Her voice is light and refreshing, one I don't think I would ever tire of hearing. Unlike a great deal of country and bluegrass fiddlers, Mailander has a full and rich tone, a sound more akin to a classical performer. On this disk he also plays the octave mandolin, which is larger and tuned an octave below the mandolin.
The duo open their disk by pairing "Another Side," a song of considered and hopeful possibilities penned by Tuttle, with Mailander's "Tell Me," a up-tempo instrumental that showcases the fiddler's fluidity. They also perform the traditional "Moonshiner," the me-thinks-thou-doth-protest-too-much country chestnut "I'm Over You," and the easygoing bluegrass tune "Red Prairie Dawn."
Tuttle and Mailander include Joni Mitchell's "Morning Morgantown" here. Less of an ode to a specific berg, in this case the college town in northern West Virginia that lies along the banks of the Monongahela River, the song served Mitchell as a springboard for imagery and word play. Though the lyrics are filled with commonplace happenings and objects from over 40 years ago — milk trucks and merchants rolling out their awnings — the song has a hippie tripiness to it. It was, after all, written in 1970, the Belle Epoch for everything hippie. Mailander and Tuttle recreate the dreaminess and sense of languor of Mitchell's original, yet Tuttle's fresh take on the tune displaces Mitchell's disquietude that was ever present with the songster from the sixties.
I don't believe that you have to be a lover of bluegrass or country to enjoy this collaboration between these two young talents. Their music is so accessible and engaging that any listener, whether a metal head or jazz aficionado, will find something to enjoy on Molly Tuttle & John Mailander.