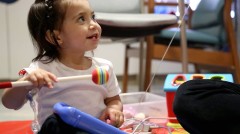 by Kristine Vandenberg
What do San Diego's 16-year-old Best New Artist Cody Lovaas, UCSD's award-winning acapella group the Tritones, and Food Network star Marc Summers all have in common? They will be featured at the 4th annual Heart of a Child benefit concert on Saturday, April 25th at the Irwin M. Jacobs Hall at Qualcomm. There are 21 extraordinary acts in total including nine-year-old Isabella McCormick who is the top harpist in the U.S. under eleven, Adrian Liu, a 16-year-old pianist who has performed at Carnegie Hall three times, and so many more amazingly talented youth.
Hosted by Marc Summers, the event benefits Resounding Joy's Ariana Miller Music with Heart Program which provides no-cost music therapy to young people at Rady Children's Hospital who are battling heart disease. Since Resounding Joy began the program in 2011 it has provided music therapy at no cost to more than 500 children. According to Dr. John Lamberti, Chief of Cardiac Surgery at RCHSD and Eugene and Joyce Klein Director of the RCHSD Heart Institute, "The music therapy program is an important part of our therapies at RCHSD."
Event organizer Dr. Jeff Miller knows first hand about the benefits of music therapy for young cardiac patients. His daughter Ariana, for whom the music therapy program is named, was diagnosed at birth with complex congenital heart disease. When her health declined at age 11, it was music therapy that kept her strong and joyful. After she passed away at age 13 in February 2008, Dr. Miller and his family started the Ariana Miller Music with Heart Program. "We wanted to help other children and their families who face similar circumstances. Ariana was blessed with a great support system, ample resources, and a loving family. Not all of these kids are so lucky," said Dr. Miller of why this no-cost program is so important.
Not only does this event feature San Diego's most talented young performers, there is also an auction with several incredible prizes available including: A week-long stay in a 2 bedroom Maui condo, a one-night stay and spa package at Rancho Valencia, 4 Disneyland Park Hopper passes, and many more. Join Resounding Joy for a great time supporting a great cause at this one-of-a-kind event.
Event information:
What: Heart of a Child Benefit Concert
When: Saturday, April 25, 2015. Silent Auction at 6pm, concert starts at 7pm
Where: Irwin M. Jacobs Hall at Qualcomm, 5775 Morehouse Drive, San Diego, CA 92121
Cost: $25 general, $100 VIP (includes guaranteed preferred seating, beverage, and VIP gift)
Tickets: https://resoundingjoyinc.givezooks.com/events/4th-annual-heart-of-a-child-event