RON STEVEN HOUSTON: Whiskey Train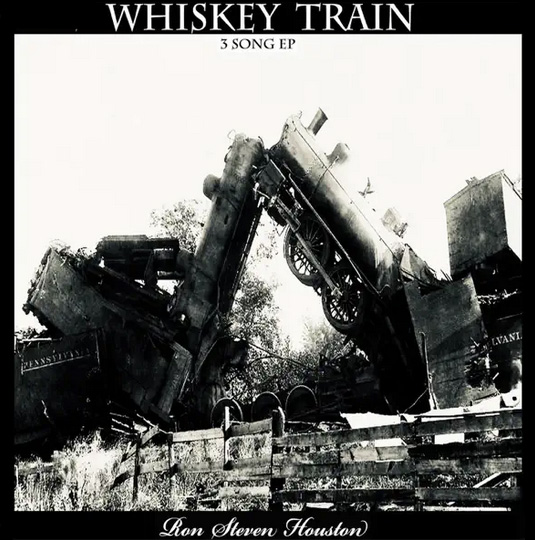 Released this year, Whiskey Train is three songs and comes in at just over 13 minutes. All songs were written by Ron Steven Houston, and I'm going to say right off the bat that I enjoyed the listen. They are uncomplicated but not simple, full of heart, some regret, and a bit of relief for having made it through some self-inflicted hard times. Houston's voice is clear and deep, with just enough grit to make me believe his stories. The arrangements are straightforward and purposeful. The musicians meaningfully frame each song and leave plenty of room for me to sit back, close my eyes, and catch the lyrics.
Whiskey Train was recorded, produced, and mixed at Satellite Studio by Jeff Berkley, who also played guitars. The rest of the musicians are Mark Intravaia on lead electric guitar; Josh Weinstein on keys; Christopher Hoffee on bass; Matt Lynott on drums; and Cathryn Beeks, Sandi King, and Josh Taylor on backing vocals. Amelia Sarkisian was the assistant engineer, and the project was mastered by Robbie Robinson.
The title track opens fresh and light with acoustic guitar, drums that are contrasted with a heavier, solid bass presence that continues to lay down a steady rhythm after Houston begins to sing "I've been riding for years and years on this old whiskey train. It's been rolling so many years, down these old rails of pain." Beeks makes her first appearance singing backing vocals at :32; her voice rings clear and true and matches Houston's to a tee. Berkley's guitar accents brush lightly against the vocals and gently move the song along. But, right around 2:50, everything starts to sound a little edgier, guitars fill in more, drums get busier, until—holy moly—the whole thing lets loose at 3:15. The pace is almost half again quicker, and the electric guitar comes in wailing like a train; I can feel the rush of wind and sense the forward motion. Spirited backing vocals share center stage with Intravaia on electric guitar and Lynott drums as they all raucously roll, roll, roll, gaining momentum. At 4:15 the guitar gets a little dissonant and I get the sense of falling; the drums are mad with expression and keep adding more, until finally, it all pauses for Houston's final "…on this old whiskey train," and they punch the final note.
Ragged and hopeless, "People Looking the Other Way" paints a dark picture of life on the street. A little drum fill starts it off, followed by electric guitar; it's got a certain pop and swing to it, a hustle. After a two-line verse, there's an early chorus at :30 that counters the verse as it flows smoothly with sliding guitar fills running through it. It reveals that, as much as the main character sees and experiences, some people choose to ignore the darkness. Then we're into the next verse. At 1:15 the keys do something that sounds like grating metal on metal, which furthers a sense of heightened tension, as Houston sings "This world's like picking pockets, it just takes everything. It leaves you broke inside and out, but don't fix a goddamn thing." At 1:58 we hear an electric guitar running fluidly through a lower register solo that switches at 2:11 to a sharpened higher register that ends dreamily heading into the last verse. "Walking down the street late at night while the moonlight's shining bright. People trying to make ends meet, they're stealing everything in sight." The keys come in at 2:31 with an underwater kind of sound, like a stifled murmuring from a distance. The chorus begins again, emphasizing society's disregard and it repeats a number of times; the lead guitar switches between chords and solo notes in the background. Lead and backing vocals continue to build it up until the instruments drop out and, as it grinds to a stop, I hear an almost imperceptible groan from Houston.
"Drinkin' Got the Best of Me" begins suddenly, full of life, the sweeping organ leads me down center aisle into a church service in progress, and it is, in fact, a vehicle for confession and redemption. The instruments abruptly stop as Houston begins his story. Beeks, Taylor, and King on backing vocals join him here and there on the second verse, "Years and years have come and gone now, and I don't remember one damn thing. Well, thank god, I wrote all these songs, lord, to remind me of all the hurt and pain." When the chorus begins, I hear all those background singers coming in strong as a choir, which supports his voice and admissions and lovingly accept him as he sings "When I look into the mirror, what is it that I see, but an old tattooed man, a man that sort of looks like me. Seems to have taken a lifetime. Lord knows I'm finally free. My family always got the worst of me, lord, 'cause drinkin' always got the best of me." Piano takes the spotlight in the second verse, filling in and adding to Houston's every line, while the bass and drums leave space for it to shine. Backing vocals pepper phrases as it builds and breaks over the chorus, even bigger this time. At 2:49 there is a melodic guitar solo working back and forth with the background singers, who continue to drive the momentum of Houston's resolve to finally make things right. After one more chorus, I do believe he does it.
Whiskey Train leaves me satisfied. As I said in the beginning, I enjoyed it and that enjoyment grew each time I listened. Available on all streaming platforms, you'll be happy to listen for yourself.