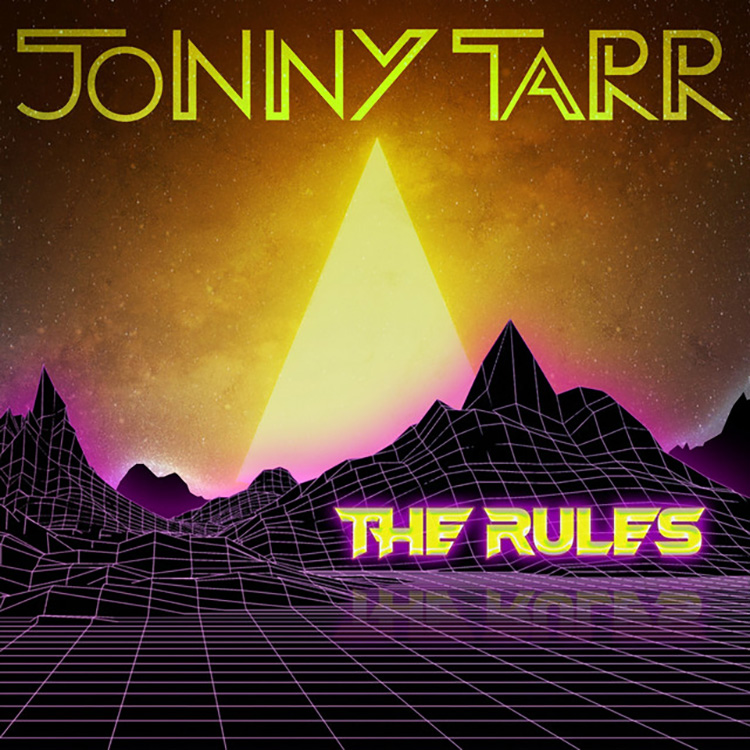 Move over Phil Collins and Michael McDonald, there's a new rising pop star vocalist in the making. Winner of Best Pop Artist at the recent 2023 San Diego Music Awards, Jonny Tarr is on a roll with his new CD release, The Rules. A multi-instrumentalist, he plays various keys, saxophone, and guitar throughout his ten tracks of original tunes, which he recorded, mixed, and produced at his own Tarr Towers Studios.
His backup musicians complement the many funky grooves Tarr has compiled, led by Ken Dow and Stefan Hughes on bass, Miles Clowminzer on drums, Matthew Clowminzer and Joshua Taylor on guitars, Melissa Dow on strings, and the ever-present Monette Marino on percussion.
Tarr's dynamic and delightfully in tune high register voice charges right out of the gate in the opening title track, "The Rules," as well as the track, "Across the Event Horizon," rocking out behind the band's in the pocket chordal grooves.
The pop-flavored tracks "Bodyslammed," "Paradise in Your Eyes," and "Don't Ask the Monster" spotlight Tarr's tasty sax phrases between intricate layers of keyboard and string orchestrations amid his high energy vocal phrasing. Lest we not overlook some of Tarr's lyrical muse as in the 1980s-style rocker "Thin Air." "I follow vapor trails endlessly…but I hope I'll see you again."
Vibraphonist Matt DiBiase joins in on the haunting and mesmerizing track "Hidden Bottles," adding dulcet tones in sync with Clowminzer's syncopated drum pattern. "I never got to tell you things on the tip of my tongue…you're to change nothing, 'cause what is done is done."
Tarr reaches exquisite vocal heights, tearing it up on "Gonna Be There for You," embellished by just the right amount of reverb and delay on his voice, a perfect candidate for a single on mainstream radio, followed by "Love Language," a tightly knit disco groove that brings vibraphonist DiBiase back to the forefront with mellifluous accompanying tones, a track Stevie Wonder would be proud to have written.
The closing track "Run from the Sun" is a well-crafted lyrical piece. "Numb hands are jammed, deep down in my pocket…why do we put ourselves through it," segueing into banks of cascading vocal chorus harmonies that climaxes with a regal orchestra of strings and keys, putting the final touches on an impressive set of original tunes that will make you want to dance the night away while swooning to Tarr's magnificent vocal presence.