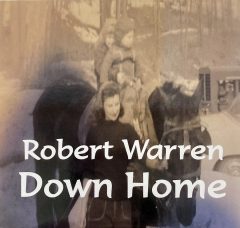 Robert Warren is a singer/songwriter who has released several albums, starting with 2016's Shuster's Hill and including This Year from 2019. He plays introspective folk songs that include somber minor chord ballads and breakup tunes; his most recent releases have extended his palette from starkly accompanied and often morose songs backed only by his acoustic guitar to more elaborate tunes and instrumentation. The subject matter now includes love songs, storyboards, and other personal tunes that capitalize on his distinctive, even arresting voice relating lyrics that strike chords of their own.
Warren's latest is Down Home, a seven-track EP that reflects growth in his songwriting—the songs don't bail out on the painful emotions completely but have more emotional range. Another change is that the music on the disc is produced and recorded by Wolfgang Grasecamp, who captures Warren's acoustic guitar and vocals, while fleshing out the arrangements by adding accordion and piano.
"Another You" is a love song, given depth by Grasekamp's keyboard contributions, as Warren sings to a special lover, looking back on a long-term relationship. "And I wore your love just like my favorite sweater/ Held you tight just like a precious jewel." Warren's softly rendered music benefits from his facility as a fingerpicker. His ability to create characters and scenarios comes through on "Lowell Avenue," which chronicles the story of a cowboy musician heard in a dive bar. He never made the big time, and his eventual passing in the last verse is a touching moment.
Another side of Warren's latest is the use of vocal harmonies, and "Sweet Namay" is the disc highlight, as he sings about a woman who "Is working hard to save my soul." The addition of another voice gives this song more bottom. Keyboard string effects help build "Think of Me" as grand piano helps give the choruses a touch of grandeur.
"Old Man's Dream" turns the focus inward, as Warren relates, "Come Friday night I take my paycheck home/ Find some way to set my spirits free/ You still wear my favorite faded jeans/ In this old man's dream." The set closes with "Whiskey and Wine," a waltz-beat ballad about how he has settled with a woman who is out of his league, yet still comes to hear his sad songs. The choruses are harmonized as he speculates about how the "distance between us gets lost in her eyes."
Robert Warren continues to produce personal, fascinating folk songs and the latest set on Down Home will help build his following among Americana listeners.