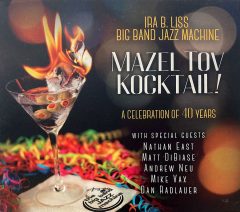 Okay, to say that 2020 sucked is an understatement. The coronavirus pandemic gave us overcrowded hospitals, closed restaurants and schools, and an economy hit with a long pause button, never mind those of us who got sick and the souls we lost.
Despite the dire situation, musicians nonetheless give the rest of us hope. Despite the lack of gigs, many of them have stayed busy, among them Ira B. Liss and his Big Band Jazz Machine. Ira and his crew recorded and have just released Mazel Tov Kocktail!, a CD worthy of the congratulation as well as the exclamation mark.
While Liss' previous big band recording, Tasty Tunes, was something of a retrospective, providing an outline of the history of the big band—from its swing origins through the adoption of rock rhythms, themes, and even incorporating the distorted solo electric guitar—this disk is firmly rooted in the contemporary sound of the big band.
Of note is the title tune, "Mazel Tov Kocktail," which draws on Eastern European and klezmer themes. The band swings this one for all it's worth, including a fabulous swinging klezmer clarinet by April Leslie. Local bassist made good Nathan East, who has performed and recorded with Eric Clapton and other top musical talents, makes a guest appearance on "Bass: The Final Frontier," a tune that features East's tasty bass work.
Singers Janet Hammer and Carly Ines are featured on half of the CD's dozen tunes. I was particularly knocked out by Ines's swinging take on Clifford Brown's "Joy Spring."
There is over an hour of music on this disk, garnering it seven bonus points! The recording and engineering are tops, too. Every selection on Mazel Tov Kocktail is a solid and exciting arrangement, executed with precision and verve. I gave Liss and his big band my highest endorsement for their latest CD. This recording is every bit as good. Two thumbs up!