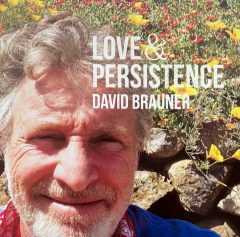 Christian rock musician David Brauner is prolific, with eight releases since 2012. He has been the music director of a Point Loma church, and his early albums contained all manner of devotional tunes for church groups as well as solo songs that delivered messages about the Lord and his relationship with Him. In more recent projects, this former rocker has included more and more secular works, mixed in with the Christian material. His newest is Love & Persistence.
Most of Brauner's albums are generous sets; this time there are 16 originals, including folk-rock and straight-ahead rockers. Sven-Erik Seaholm, again producer, provides ample studio support for Brauner's gravelly, friendly vocals and guitar on a number of instruments. Probably more than ever, this set includes plenty of songs about day-to-day life, including love songs and some with humorous lyrics.
The title song opens, with plenty of energy; it's a guitar and percussion driven, up tempo song about how he can see reasons for recommitting himself to a relationship with a lover. "Healing" is quieter, and again percussion hand drums set the pulse, while there are washes of guitar echoes giving it an ethereal vibe. Again, it is about walking a self-improvement path, without a directly devotional lyrical approach.
The message on "The Eyes of Everlasting Love," Brauner is singing directly to God, a musical prayer asking for guidance, "Give me strength and give me courage/ To do your will, whatever it may be." "Dig the Well Deeper" is more of the same, a pleasant rocker about Brauner's willingness to roll up his sleeves and "Dig on down to you, Lord." He gets some help on the lead vocal, and the organ-led backing music is raucous and joyful.
"Take the Good with the Bad" is a mellow, mid-tempo love song about the object of his lifelong affection, "Your hair it still shimmers when it hits the light just right/ And your eyes still sparkle when you smile/ You don't look sad." Brauner follows this one up with "Daddy's Summertime," a toe-tapping memoir to the days of his youth, where kids caught fireflies and tossed balls against the side of the house—and his efforts to get his own progeny to put down the phone and do likewise. "Dozen Roses" is a softly rendered waltz about an allegory of the how the old rose bush that was ignored now has two new branches where a dozen roses grow.
The rock in Christian rock is up front on "Couch Detective (Covid Rock)," a bristling piece of guitar rock that pushes the sonic envelope. Brauner sings about how he used to be a teen rocker idolizing the long-haired and leather clad musicians, on "My Heroes Are Different Today," telling a tale of how a community response to a flood taught him to follow new role models. "Flesh is Weak" rocks hard, about how a woman at the laundromat tempts him, and the Lord is making a "cosmic joke" by sending Jeannie his way, "She loves dogs and kids/ Volunteers at the homeless hall/ Yeah, Jeannie's heart is big, her underwear sure is small." He follows with a trip to the Trader Joe's, where he meets another temptation, a "Soccer Mom" who first came on to him, then changed to something more "distant and discreet."
Love & Persistence is more entertaining music from David Brauner, a mix of religious music with some other songs that tell stories from a singer that has a lot to say.