ROB BONDURANT: Through My Hands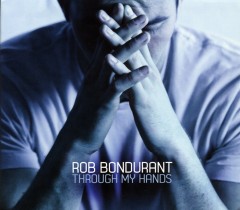 Should you happen upon the debut CD of San Diego singer-songwriter Rob Bondurant and looked at the titles on the back cover you would be forgiven for thinking that it is album of cover songs. Why, there's Dolly Parton's "9 to 5," Tom Petty's "The Waiting," Prince's "Mountains," Felice and Boudleaux Bryant's "Sleepless Nights," and hell, there's even Elton John's "Rocket Man." But, nope, they're all originals from the pen of the strikingly handsome Bondurant, whose music at first glance reminds me a bit of John Mayer (and that was before I noticed that the fourth track on the CD is titled "Wonderland"). Maybe there's a private joke in here that I'm missing in the blatant recycling of these song titles (and the Mayer influence was confirmed by going to his website and seeing that he played a tribute show for him back in January).
Perhaps I'm nitpicking, but at this point in the 21st century is it too much to ask for a tad bit more originality in the selection of your lyrical messages?
That said, I will declare that Bondurant is a really excellent singer with a keen melodic sense. His guitar playing throughout is tasteful and his leads are so well constructed that they add an emotional heft to the songs. On the aforementioned "Wonderland" his tone is beefy and he makes intelligent choices that propel the tune forward.
But if there's an overriding feeling on this record, it's one of melancholy. The one-two punch of "City Lights" into "Crossing Lines" has a particularly yearning quality. And, musically, one of the nicer surprises on Through My Hands is found in "Crossing Lines." Most of these compositions color within the prescribed spaces, but the change on the chorus of "Crossing Lines" breaks out of its structure unexpectedly, musically breaking out and supporting a lyric that comments on the folly of staying in your safety zone. It's charming and I'd love to hear more of that sort of thing.
By the evidence on his website it sounds like he is already halfway toward writing another record with three brand new live songs from a show in March at Brick-By-Brick.
On his blog Bondurant writes: "As you may or may not know, I am a full-time professional musician" and says that "the only drawback and problem with this is that I end up having to play a lot of covers and sometimes none of my original music." Welcome to world of being a pro. Clearly the club work has honed his musical chops because the guy is an excellent musician. But as a songwriter I keep wanting him to surprise me instead of simply connecting the dots in a prefab template of what has already gone down before. There's tons of talent here but I am left yearning to hear more originality. Because even though the tunes on Through My Hands sound radio ready, it's tastefully derivative pop-rock, primed for an audience who have grown up over the past 20 years on a steady diet of Ryan Adams, Jason Mraz, the Wallflowers, Matchbox Twenty, the Gin Blossoms, Bright Eyes, and John Mayer. Everyone has to start somewhere and Rob Bondurant has made a fantastic sounding debut. Perhaps he'll stretch out of his comfort zone on the next outing.