THE WALDEN APPROACH: Love: Get the Word Around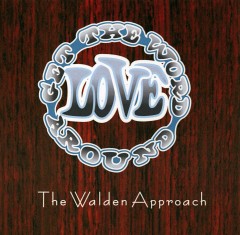 Marie and Nastasha Weston are The Walden Approach, and their debut EP is Love: Get the Word Around. The pair met local guitarist Steve Langdon through a recording class he offered, and he recorded and produced their four-track project, with the two sharing the singing and songwriting. This is bare-bones music, with just the Westons and a single-tracked acoustic guitar, and a one-take vibe to the pop-folk songs that highlight their clear, upper-register voices and harmonies.
"Five Minutes to Midnight" opens, a relaxed song that weaves traded vocal lines and harmonies into a tale about the lovely night and its dreams. The lyrics to all tunes are included in the artwork (a plus), and in "Good Things Never Die," lines like "Roses born in sweet July are memories of May come back to bloom" pay off as the bouncy tune manages to switch time signatures, overcome an odd chord changing bridge, and still float away on its sweetly catchy chorus. The most familiar sounding song on the disc is "Once Upon," which builds verses on a melody not unlike "Spooky" but adding touches like a verse in French and a bluesy vocal feel.
The disc wraps with the Westons singing "Southbound Stage," which has a light rock guitar shuffle. A lover is bound for San Francisco, and "San Diego is a cold and silent town." The song deserves props for telling a story in two and a half minutes, in a tempo and style that are steps outside the box for the duo.