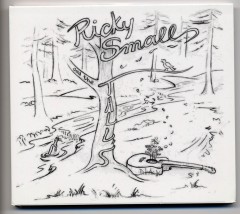 Ricky Small has a YouTube video out, singing his tune "You Should Go"; it's catchy, and about halfway through he tosses in the first verse of local singer Jason Mraz's monster hit "I'm Yours" without having to change chords, melody, or his voice. He also sounds like Mraz on his debut CD with his band the Talls, and listeners will find the light, bouncy, acoustic pop on Ricky Small and the Talls familiar territory. Maine native (and San Diego resident) Small's guitar and vocals on his 12 originals are Tonga Ross-Ma'u on bass, keys, percussion, guitar, and sax; Keli Ma'u on organ; and Nolan Greene on drums. The 12 Small originals spotlight his abilities: a strong singer and writer who can capture a locked-in memorable melody in a genre that sometimes tends to generate fluff.
It's breezy music with lots of organ and softened-up beats built on R&B and reggae riffs; "Storyteller" opens, as Small tells about a departed female friend who told good stories. This strong track features a slick Jerry Garcia-style guitar break from guest Scooter Oyama. "On My Knees" gets down with a funky guitar line that dissolves into smooth, catchy floating choruses and a jazzy fadeout, the lyrics (not included in the artwork, a shame) are about the trials of love, "Please don't use that tone with me/ It's scaring the children." The shuffling guitar, percussion and laid-back vibe of "Same Old Story" is solidly in the Mraz/Jack Johnson pop-reggae ballpark, but it still has an undeniable hook.
"You Should Go" is another lively acoustic rocker with plenty of bounce and the best mellow harmonies on the album. Small goes in a different direction with a mid-tempo tune, "Songbird." This song has background "Ooh" harmonies, different dynamics, and a soaring catchy chorus; it stands out. There is a message in "The Cling," about how the insensitive and greedy among us should take notice of the state of the world: "Do you mind if we cling to you/ For a moment?" The tune itself has one of the most memorable melodies on the disc, boosted by a tenor sax solo by Ben Sobel. Small scores again in the same vein with "Alive for Days," as he lifts a potential filler tune up by adding a clever chorus riff, all about how it seems like — thanks to his companion — he just now noticed the sun.
Small goes outside of genre boundaries for "Irish Girl," and it works again. This time, he tells a wistful story of lovers separated by time and an ocean. The delivery punches home the tale by way of a strong piano ballad, with layers of organ and a pleasing bridge that combine to give Small's voice a vessel on which to set sail.
The music of Ricky Small and the Talls fits snugly into the SoCal acoustic pop genre, along with a few surprises, and is very well-written and well-played. It's good stuff.