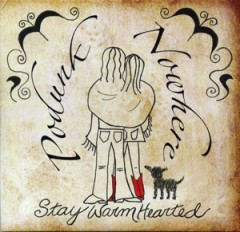 Local Americana duo Podunk Nowhere's self-titled debut disc in 2007 featured intriguing, primarily acoustic music, showcasing Heather Marie Janiga's powerful vocals in stark arrangements with husband Johnny playing guitar. The two expanded the palette with their followup, Based on a True Story, with more of a full, rocking band sound that took greater advantage of Heather Marie's ability to both soar high and clear and downshift into commanding country-gal power singing. The consistent thing on both discs: well-crafted, original songs (written by both) that were different and intimate.
Their new one is Stay Warm Hearted, and it is back to Podunk Nowhere unplugged. The eight-track offering is recorded and mixed by Sven-Erik Seaholm at his local studio, and the sound is clean, warm, and full with no need for a studio full of seasoned cats. As is clear on the even the most ornately produced track, "Those Days," Heather Marie is a really good singer, but it is Johnny's skills on acoustic guitar that complement her and lift the music here (and throughout the disc) to the next level. His humming, ringing harmonics, and sharply played chord and solo bridges surround her voice with a smooth envelope of sonic energy as she weaves the tale of the tune. "Little Dreams" uses the same guitar techniques and tells a story about the road grind and ambitions of a working musician. The lyrics of yearning for a big break make a connection (though no lyrics are included with the artwork). A change of pace is the quirky "Easier," which has lead vocal tradeoffs between the two on the verses of a country waltz, "Why you gotta make it so hard?/ It's easier than you think."
Country influences are not the only thing working on the disc. There are folk tunes, and on others Johnny's layered guitar drones give a heavier groove. "The Lottery" is a highlight with plenty of dynamics; it builds from finger-picked guitar to big flourishes as Heather Marie sings in a big voice about how things look so great, she could write a song about it. The guitars churning on this song are laid on shimmering and full, creating the kind of big acoustic sound heard (this is meant in the best possible way) in early acoustic tracks by classic rock bands Led Zeppelin and Heart. In fact, there are stretches of "Call Waiting" that sound like the result of a wild night of forgotten '70s passion among the dust jackets between Zep's "That's the Way" and Heart's "Dream of the Archer." No problem, it's one of the best on the album, as Heather Marie again matches the guitar gusto with her voice.
The title tune quiets down with a folk formula, "Stay warmhearted/Even through the cold." It's catchy, simple, and works very well, just like everything else on the disc. Fans of Podunk Nowhere no doubt already know about Stay Warm Hearted. People who like Americana music, good acoustic-based alt-country, and female singers who give it a listen will likely become fans of Podunk Nowhere as well.