PATRIC PETRIE: Pocket Venus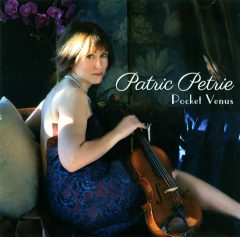 San Diego is truly blessed to have a talent such as Patric Petrie. As a fiddler, few can match her tone and sound production. Skelpin, the award-winning Celtic/world acoustic ensemble for which she was a founding member, has been among the best of the folk/ethnic musical groups to come out of this town. For years the group has given us powerful and memorable performances and recordings. Stepping out on her own, Petrie has released Pocket Venus. Any fan of Skelpin or Petrie will find much to like in this collection of ten tunes that draw on Celtic, French, Gypsy jazz, and even a little steampunk.
Anyone who's had the pleasure of meeting Petrie knows that she is not tall in the slightest, hence the disk's title. Pocket Venus refers to a shapely yet petite woman. It's a little obscure, but makes for an intriguing title.
Petrie opens the disk with two French influenced selections. "Le Petite Django" is a tribute to Django Reinhardt's Minor Swing. With her approach, Petrie de-emphasizes the fire and passion of Reinhardt and fiddler Stephane Grappelli and gives a more lyrical interpretation that brings out the underlying beauty of this Gypsy-inspired music. Petrie teams up with accordionist Matt Hensley of Flogging Molly for "The Steampunk Waltz." This is perhaps my favorite number on the disk. I love how the accordion and violin blend on this lively musette.
The rest of Pocket Venus is Petrie's bailiwick — Celtic music — and includes a few of the "hits" of this ever so traditional yet ever-evolving music. "Star of the County Down," the traditional Irish ballad, receives a spirited treatment, and Petrie sings the William Butler Yeats classic "Sally Gardens." Petrie includes "The Crested Hen," an old melody from Brittany. This northwest peninsula of France is often overlooked for its Celtic heritage and music. The music is most certainly Celtic yet has an odd and interesting quality that distinguishes it from the music of Ireland and Scotland.
Recorded at Le Petite Maison here in San Diego, as well as Kaono Studios in Del Mar, Petrie relied on Alan Sanderson, who has worked with Skelpin before, for the CD's engineering and production. Skelpin alumni Tim Foley and Enrique Platas join Petrie on this solo effort of hers. Foley plays whistle and bodhran, and Platas plays Cajon. Multi-instrumentalist Paul Castellanos plays mandolin, guitar, and violin. Guitarists Steve Peavey and Pedro Talarico also add to the mix. The disk clocks in at 29 minutes, which I found a little disappointing. I wanted to hear more music.
Petrie closes the Pocket Venus with a delightful interpretation of the traditional Irish song "I Know My Love," giving the verse a lively upbeat Latin feel that contrasts with the traditional Irish take on the melody. The song is light, carefree, and a wonderful coda for Pocket Venus.