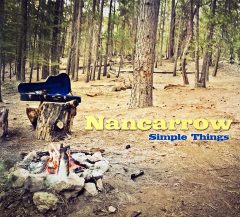 With Simple Things Nancarrow delivers another solid set of authentic-sounding roadhouse-ready old-school country… just the way I like it!
The CD kicks off with the rousing "Sprinklers," a song about how his father urged him to always try hard in the pursuit of his dream. It sounds simultaneously autobiographical and universal.
In "15 Til 40," 25-year-old singer/songwriter Graham Nancarrow looks ahead and claims he'll "still be in the game" when he's 40. I believe it.
Subtle Tex-Mex accordion flavors two of my favorite cuts: "Room for You" and "Maria." "Room for You" is a great little tune about that one special person for whom there's always room in his life. "Maria" is about a girlfriend in Mexico whose daddy hates "white boys with guitars."
The title song is classic country. "The simple things in life take away my pain… my truck, my smoke, my darlin'…" and country music, of course.
I like to hear this on the radio!
There are allusions to trucks all over Simple Things, most obviously on "California Plates," a snappy ditty about a big rig driver who loves honky-tonks, drinking and girls. Sounds like fun!
"25 to Life" is about exactly what it sounds like. The protagonist got 25 to life in Texas for killing his cheatin' girlfriend. It's another classic country meme.
"Fishin'" is about how Nancarrow loves a simple thing like fishing… "like the California redneck that I am." That's a bit of a stretch for a surfer who grew up
in Encinitas but, what the hell, it's a
great tune!
No surprise, "Elvis" is about being six years old when his father turned him on to The King. This is the one where guitarists Buzz Campbell and Russel Hayden, and keyboard player Joey Guevara take solos. It brings the CD to a rousing
conclusion.
All of the band members are excellent. A special tip of my hat to lead guitarist Campbell, a man who's been in some other really good bands, like Hot Rod Lincoln and Bastard Sons of Johnny Cash… to Hayden, who plays the steel guitar and harmonica, and to Guevara on the piano and Hammond B-3 organ. The rhythm section is anchored by drummer Ron Keener and bassist Joe Weisiger.
Graham Nancarrow wrote all the songs and sings them with a distinctive Southern accent. It's hard to imagine them sung any other way.
Simple Things by Nancarrow is simply a pleasure. More!
There will be an album release party for Simple Things on June 9 at the Belly Up Tavern in Solana Beach.
Jim McInnes is a long-time radio personality who has a show on Jazz88.3, Saturday mornings from 9:03am until noon.