DARIUS DEGHER: Eleven Story Strum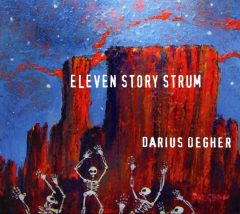 Darius Degher's 2013 CD, Coyote Cantos, was an engaging collection of original folk rock with songs including fascinating characters like Gas Station Lady and Rosie the Engineer. The multi-instrumentalist and poet writes songs that convey stories, delivered in a friendly voice, with a taste of gravel in it — framed with smooth guitar, mandolin, banjo, and harp. Eleven Story Strum is his newest, and he follows the same winning formula, making some social commentary in the  process.
Degher wrote the 11 tunes and recorded the album; he plays most of the instruments with help from Mac McFuzz on bass, drummers Kevin Jarvis and Phil Leavitt, and others (including backing vocals by Degher's daughters Cleopatra and Cordelia). The music often features finger-picked guitars, building by adding instrumental textures, usually with another guitar or banjo on a disc without keyboards.
"Equinox Light" has Degher singing about how his life is settling into a renewal, no longer unbalanced, with delicately picked guitars laying down an upbeat melody and Cleopatra helping on harmony. The picking continues on "Hey John," but now it is in darker minor chords, a story about a hard-living 19th century orphan coming of age in New Orleans. Degher's way with a lyric clicks on "My American Constitution," which has a lurching guitar riff as he sings about his wish "To be a cowboy and drive a Harley Davidson… runnin' on empty without a spare." This one rocks, a highlight that shows another side of Degher, who blows some furious harp and has some things to say about our society.
"They just put a car on Mars/ It's on TV here at Charlie's bar," Degher scores with a soft, catchy ballad, about wishing he was up there playing his guitar on "So Far Away." A standout among the folkier material here, it tells his escapist, fantasy story in a way that grabs the listener. "The Nightmare of Abraham" has a rocking groove and serious edge as Degher belts out a poem about "pounds of flesh to weigh" and how he "Fought in the Crusades/ Among the bloody blades/ In plunder I was paid." The tune is another highlight that invites interpretation — though it is hard to avoid its anti-establishment, anti-Mideast war message. Degher takes on more of the world's problems — environmental among them — in "Somehow I'm Fine," and this time the message and tune are bright and almost cheery; yeah, there is global warming, but for now he is fine, because his lover is by his side.
"A Bartender Named Jesus" manages to have some fun with Degher's story of wanting to kill his wife, then meeting a special friend at the bar, who tells him all the reasons he should go back and reconcile. The disc's finale is "Echo Effects," a slow-tempo blues-rock tune, as Degher sings of a litany of observations of social issues, then digs into an overdriven electric guitar solo.
Eleven Story Strum has a lot to say and does it with compelling melodies by Darius Degher, making for a fascinating listen.