MICHAEL J. DWYER: As Real as It Gets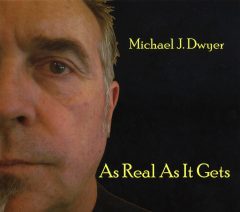 As Real As It Gets, the latest release from Michael J. Dwyer, is a 12-track journey through the hard realities that life tends to present. With driving, Petty-meets-Floyd guitar styling, echoed vocals, and eclectic breakdowns throughout, Dwyer delivers a classic rock-infused chronicle of life as he knows it.
The album's all original music was recorded at Mission Control Studios by studio owner Karl Bingle, who not only engineered the album, but also played percussion on all but one track. The sound quality from Mission Control remains consistent — bringing the mix together while letting a lot of the artist's original style come out (the most pertinent example of Dwyer's being a tendency to especially enunciate lyrics). Other contributing musicians to this album include John Herner on bass, Chris Collins singing some back-up vocals, and Jack Bingle.
The album begins with a rockin' tune entitled "Real World," which immediately sets the tone for the rest of the album. With lyrics like "I'm a child of the real world," and "Stop this snibblin' of what you've been through…" one could argue this track to be the "standout track" of the entire album. Underlying themes like adversity, hardship, love (or turmoil of), and even tragic heroism link arms and reoccur as the album progresses with tracks like "Everybody Gets Burned," "Days That Might Have Been," and "Dancing in a Mine Field." In the last quarter of the album, the landscape begins to shift ever so slightly to something rather mellow in contrast to previous tracks. "Love Bird" in particular is led by a soft and articulate piano melody, featuring lyrics like "Fly so high sweet love bird fly." One can't help but assume the album's structure to be intentional with such a shift, making the listener think that maybe what Dwyer is trying to tell us is that there's hope in the "real world." The final track of the album, "I'm Not Alone Anymore," reinforces the new feeling of hope with a Johnny Cash-style duet (featuring Chris Collins), wherein both vocalists vow to work together while staying true to themselves. The august conclusion conceived notwithstanding the difficulty of life.
Dwyer continues to build on a musical reputation of honesty to the tones of classic rock structures. His vocals are memorable and his steady tempo will keep your toes tapping.
As Real As It Gets is available through all the standard distributors (Amazon, iTunes, Cd Baby), as well as from the man himself, whom you will find gigging steadily throughout the county (www.facebook.com/mjdwyer)