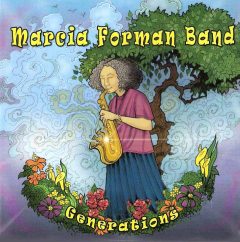 The Marcia Forman Band's latest is called Generations. The new EP is a family affair for alto sax player Forman and her husband, violinist Floyd Fronius mark three decades together. For this seven-song set of jazz standards, the marvelous guitarist is Josh Vasquez, while Jeremy Eikham's standup bass and Ray Conseur's drums hold down the rhythm section.
Forman and her cohorts do not try to reinvent the wheel, and the result is better for it; the set recalls ducking into a dimly lit club date with tasty selections and good engineering. The songs are platforms for creative exploring—but the vibe stays relaxed. "There Will Never Be Another You" gives the listener a first taste of the smooth flow of Forman's horn, with a clean, round edge, which brings to mind cool jazz whiz Paul Desmond. Vasquez, a Berklee grad and long known to Forman, has all the licks in his arsenal, and flashes a few in "Stella by Starlight" and elsewhere.
On "Bindi," a minor-chord Antonio Carlos Jobim song that goes to unexpected places, both Forman and Vasquez take advantage of opportunities for some solo flash, as does Eikam. In the "songs we know by heart" department, "Lady Bird" throws back to the 1930s, as Forman flies through intricate scales that weave a spell, then gives way to Fronius and Vasquez adding a taste of Grappelli and Django. After losing steam with a dragging "Stardust," the band is aces on "Route 66"; Forman fluidly dives into piano-style phrasing, then Fronius answers with some furious licks of his own.
Marcia Forman Band's Generations is a great listen, classy jazz by a group of pros.