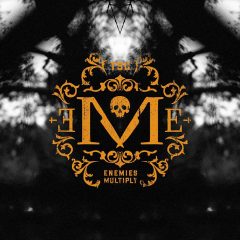 The new full-length album by The Silent Comedy is Enemies Multiply, and the title says a lot about the content. The rockers have been together since 2007, with six recordings, and their success (SDMA awards, thousands of CD sales and millions of downloads, touring widely, TV and movie soundtrack appearances) seems to be the result of a mantra, "Go big or don't go at all." This is also a band that puts messages in its music, wears its spirituality on its sleeve, and, especially on this latest effort, doesn't back away from making the social statements necessary to sanely navigate a world that has become dark and increasingly hostile.
Joshua Zimmerman (bass, vocals), Jeremiah Zimmerman (keys, vocals, guitar), Justin Buchanan (banjo, guitar), and Chad Lee (drums) recorded the album of 11 originals in Austin and the effort is a front to back series of soul-baring anthems. Any lingering doubts that this is not a serious response to our screwed-up society is immediately dispelled by the opening title tune. This has an impassioned outcry from an everyman who cares about the crumbing state of the world, and he has answers for the "coward" at the helm, "For every villain posing as a saint/ There is always some liar claiming it's my mistake." The lead vocal and bombast throw back to the best roof raisers of U2's heyday. A great arrangement lifts "Avalanche," which pours on the power in the choruses with more cathartic and soaring group vocals. The band is not subtle, and they use heavy guitars to great effect on "Light of Day," a bruising blues-based update of seventies power rock of bands like Led Zeppelin, but done with more soul.
"Sharks Smell Blood" shifts gears, but the group vocal is no less anthemic, and a quirky guitar lick works its way through, while gospel backing voices and clapping hands meet a throbbing rock hook. The band gives "California Queen" a shimmering, harmonious feel, softening up the approach just enough, with lyrics that tell a deeper tale, "Golden turnstile, velvet leech/ Feeling worthwhile razor clean/ Awful pretty, aren't you/ like a needle in the street." The dark story is a disc highlight.
"Heaven and Hell" rocks like the latter, and "No Saints Forgiven" pounds away with heavy riffs, "I need a confessor/ Someone to hear my sins/ I ain't learned my lesson/ I wanna do it again." It blows the roof off, with grinding power chords. The disc wraps with "Peace of Mind," which starts soft, as if the soul catharsis of the previous 10 tracks has led to a quieter movement, but still one with lessons about getting right with your Creator and your fellow man. Banjo and guitars build a loud hill for the chorale to climb, and the uplifting song puts a nice resolution to an album that focuses on a world needing soulful renewal—with grinding guitars. Enemies Multiply shows that The Silent Comedy continue to produce music that must be listened to.