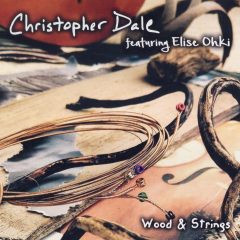 On the local scene since before the turn of the century, Christopher Dale has racked up numerous nominations and awards, and as a solo artist he has released four recordings. A master of the full spectrum of musical genres from power pop to close-harmony folk rock, it's no surprise that his newest release, Wood & Strings, shows a new side, an acoustic collaboration with violinist Elise Ohki.
The five-track EP was produced by Jeff Berkley and is bare-bones, just the two principals and upright bassist Jason Littlefield. Dale is in typical great voice on the opener, "Stranger." It is unusual, a song with an aggressive stride, reinforced by Ohki's intricate yet powerful fills that puts Dale's voice in the pocket challenging, "Do you see me looking over my shoulder/ See me trying hard not to stare?" After the stirring start, "Thank You" is more of a friendly pop love song, and a highlight that uses Ohki's additions to the sound as decorations to complete the picture.
One of Dale's best originals is "Middle of Nowhere," and the slow-tempo, catchy ballad is here, even better for its quiet and stark presentation. The soft harmonies on the chorus are somehow made just a bit more expressive by Ohki's filigree. The same vibe permeates "Love is a Song," the closer, with Dale simply telling the listener of his desire and need to sing, "Love is a song unrehearsed/ And I'm still picking my way through the first verse." On Wood & Strings, Christopher Dale puts a quiet spin on some comfortable music.