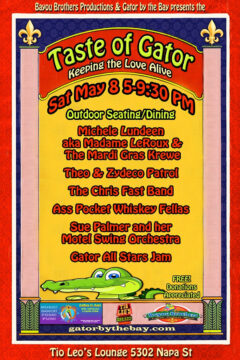 Ric Lee started producing the "Pre-Gator Party" about 14 years ago. He just thought it'd be fun to gather a lot of the bands who would be willing to perform a 20-30 minute set to give folks a taste of what they have to offer at the upcoming Gator by the Bay Festival in May. The event soon became "Taste of Gator" and the name stuck. The annual Taste of Gator has since turned into quite the social event and it is so much fun for everyone, thanks to the help of Tio Leo's owners, Frank and Leo, and their great staff who are always on board to help spin a great show! This event has become much bigger than Lee ever thought possible—a real meeting of the tribes, so to speak. The good folks at Gator by the Bay and the San Diego Bon Temps Society have been very supportive from the start and have helped to create a wonderful feel-good vibe that inspired Lee to make Taste of Gator an annual event. Over all these years this event has had so many great San Diego musicians offer their time and generosity to step up and play. They all bring their own special brand of magic for our music lovers and dancers to kick up their heels. It's all part of what makes this event so exciting! Sometimes bands bring their own impromptu musical guests up on stage and such spontaneity is just part of the big fun! Let's see what surprises are in store at the next Taste of Gator this month. See you there! —Ric Lee
WHAT'S IN STORE THIS YEAR…
For those who love their live music in a fun and welcoming festival environment, the annual four-day Gator by the Bay Zydeco, Blues, and Crawfish Festival is a much anticipated, must-do spring event. And, while the Covid pandemic has postponed the usual May celebration, all is not lost! The popular Gator by the Bay preview party will still be a go, when Taste of Gator: Keeping the Love Alive takes place on Saturday, May 8.
The event will be held outdoors from 5 to 9:30pm, at Tio Leo's, located at 5302 Napa Street in San Diego. In addition to an all-star lineup of some of San Diego's best musical talent, Tio Leo's will be serving food and drinks to add to the conviviality. Best of all: attendance is free, although donations are much appreciated as the money goes to pay the bands and expenses. This annual gig was put on hold last year due to Covid, so the 2021 party promises more fun than a barrel of rubboard players!
The lineup, includes many of the favorite bands who perform yearly at Gator by the Bay, including:
• Michele Lundeen AKA Madame LeRoux and her Mardi Gras Krewe
• Theo and the Zydeco Patrol
• Chris Fast Band
• Ass Pocket Whiskey Fellas
• Sue Palmer and her Motel Swing Orchestra
• Gator All Stars Jam Band
• and Emcee "Sistah Judy"
Gator by the Bay was born 20 years ago, when a group of friends who shared a passion for the spicy Louisiana culture of music, dancing, food, and joie de vivre, organized a one-day event to showcase these elements to the San Diego community. The festival has grown to draw over 15,000 attendees annually from all over the country—as well as Europe and Asia—for four days to enjoy over 100 musical performances on seven stages. Musical genres and performers represented not only include Cajun and Zydeco from Louisiana, but legendary blues artists, Americana, roots, Latin, rockabilly, and swing music as well. In addition, food is a big part of the festival, with one of the highlights being the 10,000 pounds of live crawfish brought in fresh from the Louisiana bayou every year.
Taste of Gator: Keeping the Love Alive is brought to you by the good folks at Gator by the Bay and Bayou Brothers Productions. All are welcome. Please wear masks (except eating and drinking, of course) and please be Covid polite as we are still in the fight. —Catherine Miller