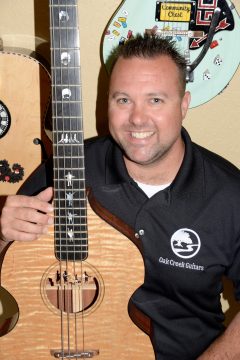 The acoustic bass guitar bears a shape that hints back to the early Hofner model played by Paul McCartney when the Beatles hit it big. A closer look at the neck shows four fret inlays in mother of pearl, each an identical copy of the four mop tops' iconic silhouettes from the photo on their With the Beatles album cover. Approaching the sound hole, the last four inlays are more mother of pearl, this time each of the four's mock-semaphore poses from the Help! cover. The sound hole is partially covered by an extension of the guitar's beautiful top, into which is meticulously carved–completely through the thick wood, in impossibly fine detail–a silhouette of the band playing, with mic stands and instruments. Oh, yeah: along the back of the neck, inlaid beautifully, are the lyrics "With every mistake, we must surely be learning, still my guitar gently weeps"… in George Harrison's handwriting.
This and many other custom guitars are the work of Josh Stotler, a luthier who through his Oak Creek Guitars shop in Spring Valley has become a recent force to be reckoned with in the local custom guitar business. The native San Diegan got his first taste while still at El Capitan High School in the 1990s.
"I wanted a bass guitar; a lot of my friends were getting into music and bands and playing guitar, and I couldn't afford one, so I decided, 'Hey, I'll make one.' So, with no woodworking experience and no knowledge of lutherie, I just set off as a teenager and did my own thing. With none of the customary woods used in musical instruments, home-made parts, and hand tools, I made my first guitar–which was a copy of a bass that Paul McCartney played. It was rough, but it played, and I still have it to this day."
Not until a decade later, on a military base in Germany in 2005, did Stotler get back into guitar building. He worked as a volunteer at a woodshop, a side line to his day job with a fire department. The five years of experience there taught him skills, as he learned of his affinity for the craft.
"I was kind of thrust into the woodshop there on base at Weisbaden [Germany] and found out that I really like this. I like instruments, I like woodworking, and so I set off to design and build my first guitar from my own design, from scratch. That was a semi-hollow body acoustic-electric guitar and it turned out very well. I was hooked from there. I just really wanted to get better, to hone my skills."
"I started getting requests for repairs, it was a military community. There were a lot of damaged instruments because of moves and permanent changes of station. I just built it up from there, lots of repairs, lots of custom work."
A self-taught craftsman, Stotler has never taken a woodworking class. "Most of my knowledge is from reading books, from Build Your Own Guitar to the inlay of Larry Robinson, who has a fantastic book, The Art of Inlay. And trial and error."
He has worked on the whole spectrum of stringed instruments, from violins to guitars, completing everything from setups and repairs to complete restorations. Projects have included a complete restoration of a 1920s ukelin, a lap-played, 32-string instrument, and another restoration on a banjo/mandolin.
"I really don't turn down much [work]; I like taking on what other people won't. I like a challenge. I like doing research and finding out about the history of the instrument and what it takes to get it back running."
Stotler considers acoustic guitars his "bread and butter." While he will work on electric guitars for other people, he doesn't play them; when he builds guitars, it is acoustics.
"When I start building them, I, of course, choose the wood. There are woods referred to as tone woods, better for guitar making, so your triple A maples, mahoganies, a lot of hard woods, ash, and woods of that nature. But as I design and figure out what the guitar is going to be, it kind of takes on a life of its own; there is a wood grain you have to consider, there is hardness, there is sap content, thickness. Every guitar is different and they all start taking on their own personalities."
Stotler points out the restricted and forbidden woods involved, and his preferences in bench and hand tools. While his growing shop has table and band saws, and planers, much of the fine work requires a personal touch.
"I do have a lot of hand tools that I use for contouring guitar bodies. Little finger planes–very, very small, very, very sharp planes that are only about an inch wide. It depends on the task. There's a lot of things that with an electrified tool you can really go overboard and break the edge, or sand too deep and mess it up. When I have the basic shape of the body down, it's all hand work, so hand sanding, hand planing. The routing I do for inlay is a very, very small hand held router, 1/32 of an inch wide."
Returning to San Diego in 2013, he started up Oak Creek Guitars, and soon found an area that he could put special focus on.
"I specialize in inlays–mother of pearl, abalone, and if there is bone that has to be used I purchase camel bone, which is readily available through a shop I purchase from in Ohio. Inlaying is pretty much why I do this, I enjoy it very much. I like the fine detail and the finished product. Most of my shop time is devoted to custom inlay, I have several customers who have gotten hooked and keep coming back, so that's good for me and the word of mouth is always nice."
He also found an ideal outlet for this new specialty with an annual contest at the San Diego County Fair. The Fair teams up with the San Diego Fine Woodworkers Association for a Design In Wood Exhibition that involves 25 classes of woodworking–these include several categories of carving, wood turning, furniture making, and a category for musical instruments. Each year, the Fair selects a theme, and awards exhibitors who design the best exhibit for such themes as the Fab Four, Game On, Balboa Park Centennial, and others. There are 350 entrants, with awards in each class, including first through third place for musical instruments and special awards for theme-related creations.
"That's how I started getting into the themed instruments. I do that guitar every year, depending on what the theme of the Fair is. I start in November when they release the theme, and it pretty much takes me till the start of the fair to finish it."
He entered the 2013 Design In Wood and took home the special theme award with an electric guitar based on the Monopoly game that features numerous colorful inlays, game tokens inlaid into the fingerboard, pickup covers matching Chance and Community Chest cards, and dice matching the numbers on a cover on the game box. The Fab Four acoustic bass also snagged the 2014 theme award, and he won it again in the next year with a guitar designed to match the style of 1915 parlor-style classical guitars, with mother of pearl inlays of Cabrillo's ship and the California Tower, to match the Balboa Park Centennial theme.
"Last year, for my Alice in Wonderland guitar, I won Best Finish and Third Place in the musical instruments division. Still looking for that number one spot in the musical instrument category, but we're getting there." The neck and headstock of this Alice guitar are a checkerboard of ebony and lighter wood, formed and shaped into one smooth, flawless whole, and the reverse side of the guitar has a detailed picture of her, inlaid in ash into the darker wenge, with detailed floral filigree and the words "Curiouser and Curiouser."Several of his themed instruments share a headstock design with an Oak Creek Guitars logo on it, also inlaid in mother of pearl.
"I also have a passion for music, I love listening to artists and hearing what they have to say about my instruments when I build them. I restored a guitar that went through the Hurricane Katrina flood, and was just absolutely warped and twisted. I brought it back and they were so happy, and that is why I do it."
Stotler realizes that he is living in a town where musical instrument building is a regional strength, and he seems to have absorbed some of the vibe.
"Growing up in San Diego, I always had the Taylor cloud floating around me. I've taken their tour 15 times, at least. That is just a wealth of information, they're happy to talk about building guitars; they let you walk around their shop and show you how they do things. I've learned more on some of their tours than I could ever learn reading a book. Deering Banjos is also here in San Diego, in Spring Valley; some of the highest quality instruments around. Just beautiful inlay, their luthiers are superb. Being around those two companies growing up, it showed me a very high level of where I have to be." He has owned and played a Taylor for over ten years, and considers it a superior instrument.
"I've had a lot of instruments come across my workbench. Some very old Martins–the wood on those is just stunning. And it all depends on how you take care of your instrument. Unfortunately, the best place for it is in its case. I've had instruments that have had a hard life, and I've worked on instruments that are very well taken care of; as soon as I open up the case and take a look at it, I can tell you which one they are."
Aside from his interest in the themed instruments and inlays, Stotler has found a new focus, on 'cigar box guitars' and even amps for them. These are built from the ground up from non-traditional materials, and are all the rage. He has a small wood crate for coke bottles  in the process of becoming an amp; when done, it will have Coke bottle caps for knobs.
"I've actually branched off into cigar box guitars, the Southern guitars built out of whatever you have, and those have become very popular. We'll go out and find spoons and sink grates and things to make these guitars out of and people just eat them up. I've built a handful, along with cigar box amplifiers using old stereo equipment, old computer speakers, and things of that nature. A lot of times those are what catches peoples' eye. If I have a booth at an event, they'll come over and say, 'What is that?' 'It's a cigar box guitar.' And they'll play it, and I can't keep them, people just buy them up."
In the meantime, Stotler is at work on a new custom guitar for this summer's fair, and its Western theme. And keeping busy.
"I'm here, I'm in San Diego, and I will never turn down looking at in instrument. I always give free estimates. I just love what I do."
For further information, go to Stotler's website: www.Oak Creek Guitars.com