JORGE GARCIA WITH RICHIE COLE: Dedicated to You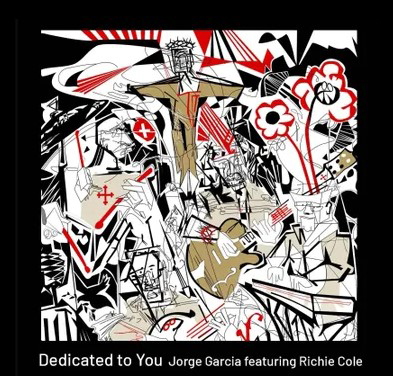 A pleasant surprise here for jazz guitar fans seeking an obscure fretboard specialist who sounds all but ready to step into the larger spotlight. Cuban-born guitarist Jorge Garcia, who has made a professional name for himself for his peerless work with Jon Faddis, Tony Bennett, and quite a few others, has released a sterling new disc, Dedicated to You, bringing with him the late saxophone standard bearer Richie Cole along for this wild ride. Cole, who passed way in 2020, had recorded some tracks with Garcia in 2009. This album brings two unheard tracks into the spotlight. Opening the album is Gigi Gryce's "Minority," a hard-charging tune that's had gloriously pulverizing renditions by Cannonball Adderly, Jackie McLean, and the redoubtable Bill Evans. This troupe makes the tune their own, guided by several choruses of Richie Cole's signature verve and willingness to push own limits. His phrases are abundant and wild, with his mercurial lines often enough seeming to threaten to run over the chord progression and harmonies and capsize the ensemble effort, and yet Cole reigns it in at the precisely the right moment. With all that bespoken madness, Cole's controls his accelerated solo beautifully. The solo is a small masterpiece of spontaneous melodic invention, with a tone that does not wobble or waiver.
Following suit, Garcia's guitar work matches Cole in heat and quick-thinking invention, grounded in the masterclass complexities of the bop tradition at the faster tempos; his solos are fast, clean, and his fingers find new ways of making old chord changes swing for the fence and slam the fabled ball out of the park. His playing is an unusual blend of George Benson and Larry Coryell, a classical elegance matched with a firebrand delivery. The second of the tracks with Cole, "This One's for Richie," a slightly less rapid outing based on the chords of the jazz standard "There Will Never Be Another You," again commencing with Cole's saxophone boldly stating the theme and reconfiguring it in several choruses of impromptu genius. It's a marvel to listen to him vary his attack—from jet-speed lines to ribbon-like decorations and pirouetting grace notes aplenty, and not lose the connected joy his foray brings.
Garcia handily matches the comparatively busy Cole with a serene display of Montgomery-esque octaves, a chiming texture that provides some breathing rooming amid the kinetic hustle and drive of the music so far. The results are a revelation, as Garcia's hybrid bop-bossa nova guitar gels magnificently with Cole's supple sax extemporizing. That they're simpatico isn't surprising, as Garcia was guitarist for Cole's Alto Madness Orchestra, an acclaimed big band praised by shaking new life into old charts with a riveting, hard riffing zeal.
The previously unreleased tracks with Richie Cole start Dedicated to You with eight minutes and 58 seconds of rousing straight-ahead jazz, and sadly that is all there is with the late saxophonist. Consequently, the rest of the record, highlighting Garcia and a solid roster of sidemen (Rick Doll on bass, James Cotman on drums, Jamie Ousley on bass, Gino Castillo on bass, John Yarling on drums, Paul Banman on piano, Hendrik Merukens on harmonica, Wendy Pederson on vocals) suffers in comparison. It is a good set of tunes that remain, particularly on a fine rethinking of "Somewhere Over the Rainbow," with a glowing and transcendent vocal from Pedersen and a rollicking session on "S'wonderful." There's skillful mainstream jazzing on the rest of the songs, and Garcia shows himself as a jazz guitar champion who deserves a far larger audience. But having Dedicated to You is worth a listen for the chance to admire Richie Cole's reed mastery on these two lost tracks. Additional listening to the remaining tracks will provide many substantial, if less torrid pleasure for the ears.