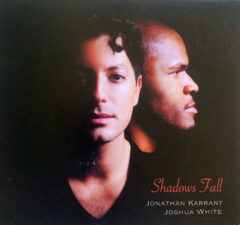 Jonathan Karrant and Joshua White have teamed up for Shadows Fall, and for fans of jazz and just superb, tasty pop sourced from the Great American Songbook, rock, and even R&B, it is something special in a time when most music comes and goes without making a great impression. Ex-San Diegan Karrant is a singer whose 2012 album On and On was a hit on the jazz charts, full of his fascinating readings of well-chosen covers that he made sound like they were written for a small jazz combo with an expressive, silk-smooth vocalist. Local pianist White is a perfect match for him, an award-winning jazz player who is both a virtuoso and the dream accompanist.
The set is generous, 13 songs that mix the familiar with some not-so well-known pieces, and the arrangements are exactly right with just these two in the studio, drawing inspiration from the eclectic material—and one another. Represented songwriters are all over the genre map, from Cole Porter, Richard Rodgers, and Eddie Mercer to Macy Gray, James Taylor, and Mose Allison.
"Simply the Best" kicks things off, a Tina Turner hit that gives both a good opportunity to blend with the other artist; White is in a zone on the ivories, which gives Karrant a great launching point for his interpretive skills. Rodgers' "My Romance" is next, an old-fashioned love song—and White digs in with some improvisational riffing that is pleasing, on a disc that generally eschews flash.
Gray's "I Try" is given a jazzy reworking, another pop/soul song with a killer hook that turns the R&B tune into a slow burner that works marvelously. Moze Allison was the kind of keyboardist that could transition from blues to jazz, and White takes the opportunity on "Stop the World" to sound like both Allison and older master Nat King Cole, as Karrant sings about "too many buzzards sitting on the fence…it seems my little playhouse is falling down."
It's back to the American Songbook for "Wrap Your Troubles in Dreams." Multiple past versions of this familiar pop standard were recorded by singers back to Louis Armstrong, Crosby, Sinatra, and Sarah Vaughn, and here it breezes along as Karrant scats the first minute or so and White is in full jazz/boogie mode. "So in Love" is another chestnut, as Porter's ballad is a softly rendered pleasure.
More modern but nearly as catchy is Taylor's "Your Smiling Face" and "I'm Afraid the Masquerade Is Over" follows, by David Porter, who wrote Sam and Dave's "Soul Man," and a multitude of other hits. The song is ushered in with some ear-catching White ivory acrobatics to settle down into a measured ballad that is a disc highlight.
The deep set continues with "I Thought About You" as Karrant steps into the footsteps of Ella Fitzgerald and Billie Holiday, relishing the opportunity with scatting that White answers by playing a really hot piano solo. "Being Me" is the finale, and the two principals quiet things down, closing the show with an Abbey Lincoln song that appropriately ends with "It's Time to Take a Bow." Music lovers should find Shadows Fall an irresistible treat, and if they don't grab a copy, consider it a missed opportunity.
Don't miss the CD release show on Saturday, July 10, 7pm, at Queen Bee's Art and Cultural Center, 3925 Ohio St., in North Park. For tickets, go to: https://www.eventbrite.com/e/jonathan-karrant-joshua-white-album-release-live-queen-bees-tickets-152302100683?aff=ebdsoporgprofile