JOHN MAILANDER: Walking Distance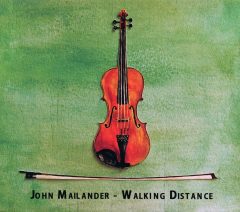 Local San Diego fiddle phenom John Mailander has released his first solo CD. Locals and Troubadour readers will know John as the kid who grew up in San Diego steeped in local bluegrass, playing with the 7th Day Buskers, the Taildraggers, Chris Clarke and Plow, Gone Tomorrow, and many other local groups. A recent graduate of the Berklee School of Music in Boston, John's new release is titled Walking Distance, and features a strong cast of talented musicians: Molly Tuttle, Tony Trischka, Joe Walsh, Brittany Karlson, Lukas Pool, Jacob Jolliff and Allison de Groot.
The tunes are all penned by Mailander except for "Gentle on My Mind," the classic written by John Hartford almost 50 years ago, and sung here by Molly Tuttle. Mailander's powerful and tasteful fiddle predominates throughout this wonderful CD. If you like fiddle music, played at the highest level, this is the CD for you.
The disc starts with the title song "Walking Distance," a captivating, hard-driving, up-tempo original with a great intro. From there it moves into "Nahatlatch," showing Mailander's prowess in presenting slow, moody, melodic fiddle. With the exception of "Gentle on My Mind," the rest of the project is all original instrumentals that showcase outstanding skill on guitar, mandolin, banjo, and, of course, fiddle, all presented in a variety of arrangements, and all captivating to the ear.
While Mailander's roots are in bluegrass, and he paid homage to those roots by including "Gentle on My Mind" in this project, the music on Walking Distance moves well beyond bluegrass into what some would call more simply Americana or modern acoustic music. Call it what you will, but get a copy and enjoy it! Mailander is still a young man, and no doubt his music will enthrall us for years to come. If Walking Distance is any indication of things to come, bless us all!