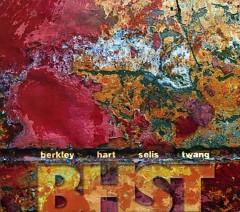 For all of you fans of four-part harmonies this first release from Berkley Hart Selis Twang will go down like smooth nectar.
BHST was formed when acclaimed duo Jeff Berkley and Calman Hart melded with gifted vocalist Eve Selis and her guitarist Marc Twang. While the members have collaborated loosely over the years, this new release is the duos' first formal team effort. And to paraphrase the old expression, this became a two-plus-two equals 10! Now back from a summer tour in the UK, and riding high on recent accolades, BHST is poised for what looks like a sweet run on their home turf.
There's a lot of collaboration in this group, with songwriting credits to all the members in a variety of combinations. It's a family affair. The album was recorded at Berkley Sound in Bay Park. Jeff Berkley produced and mixed the album, and it's a sonic sweetheart born of the harmony-rich traditions of CSNY, the Eagles, and other prominent Southern California pioneers. There is no doubt where the pedigree for this sound comes from, and this new album honors it in style. Updated to 2015, there's a sort of umami to it all, a fifth sense that makes these songs special and delicious.
"This is Home," the first track on the album, evokes the earnest, atmospheric country-folk sound of Lynn Miles' songs from the late '90s. You can tell immediately that BHST is an Americana-country-folk-rock super group and the pleasure has just begun. Adding a little more backbeat and slide guitar, the album jumps into "California Mountain Time," and the songwriting success becomes really evident. Cool Eagles-style harmonies make this and many tracks shine. But it's not all about nostalgia — there's a timeless pop sensibility here that begs for repeat listening.
When the material turns to the quiet, personal side, hats off to Jeff Berkley for clear production values that have real acoustic presence. If you're going to mix in sensitive material with the cruising, feel-good stuff, it better get your attention, and BHST knows that and gets it right. There are other nice touches that surface when you can deliver the vocal talent that this band does. In "Long Road Back to Love," Eve Selis trades verses with the guys and then they all commune on the choruses to show off their harmony skills. They are considerable.
You can hear Berkley Hart Selis Twang live on Saturday, November 22 at the Poway Center for the Performing Arts at their "Woodstock: The Concert" show. They'll deliver live performances of some of the legendary concert's finest musical moments. Expect a great show.