APPLEBROWN JAZZ ENSEMBLE: The Way On Up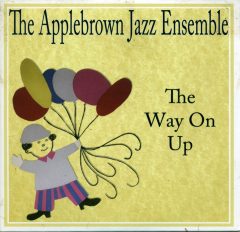 Ever since the treble and bass clefs went their separate ways sometime in the 1600s, baritone instruments have received short shrift in the musical world. In the symphony orchestra basses and celli have traditionally given support to violins, flutes, and clarinets. In opera lead roles go to tenors, while baritone and bass singers are assigned to secondary parts.
Jazz has been plagued with the same prejudice. Though there have been great baritone sax players, such as Gerry Mulligan, the choice of these musicians to play almost exclusively in the upper register has been something of a betrayal to this instrument and its capabilities.
Baritone saxophonist Gabriel Sundy is unafraid to go for those low notes, those deep, thick, timbre-filled notes, as much as he is likely to reach into the treble clef with his instrument. And his playing is bold and full-bore. It is almost as if Sundy is saying, "Ladies and gentlemen, this is the baritone saxophone and all that it can do. Just deal with it."
For several years Sundy has lead the Applebrown Jazz Ensemble, one of a number of his musical projects. With the Applebrown's first CD, The Way On Up, Sundy unleashes his boldness, both in his performances and in the six compositions he provides for this recording. The five other musicians that accompany him here play with a similar verve and deliberateness. The result is a CD that deserves a listen from any serious jazz lover and maybe a few other folks as well.
This is possibly the most imperative recording that I have come across in a long time. From the incessant beat that drives the opening of "Captain Darkness," the first number on the disk, all of the compositions on The Way On Up went through my CD player and came out the speakers in a way that practically demanded that I listen to them. Sundy obviously has his influences and borrows as much as any other musician or composer, but I felt that these tunes of his also have a freshness that kept me listening closely from tune to tune.
Throughout the disk the rhythm section is strong and right on the money. Often — and unfortunately — overlooked, Dave Pschaida is one of San Diego's best drummers. He has an immense ability to intuit where a band is going while he is still laying down a rock solid rhythmic foundation. I've written before about the talents of bassist Harley Magsino. On The Way On Up he continues to display his talents, particularly on the intense driving numbers.
Nate Jarrell is a truly unique talent. An old-time rocker with the hard-core punk band Born Blind, Jarrell has also been one half of Duo LaRey, a project he shares with Chris Acquavella, which mixes classical and jazz. If anything, his performance here draws on almost all of his previous work. Tenor saxophonist Peter August and trombonist Andy Geib, both notable local musicians, add some masterful work to this recording as well.