JOE K. WALSH: If Not Now, Who?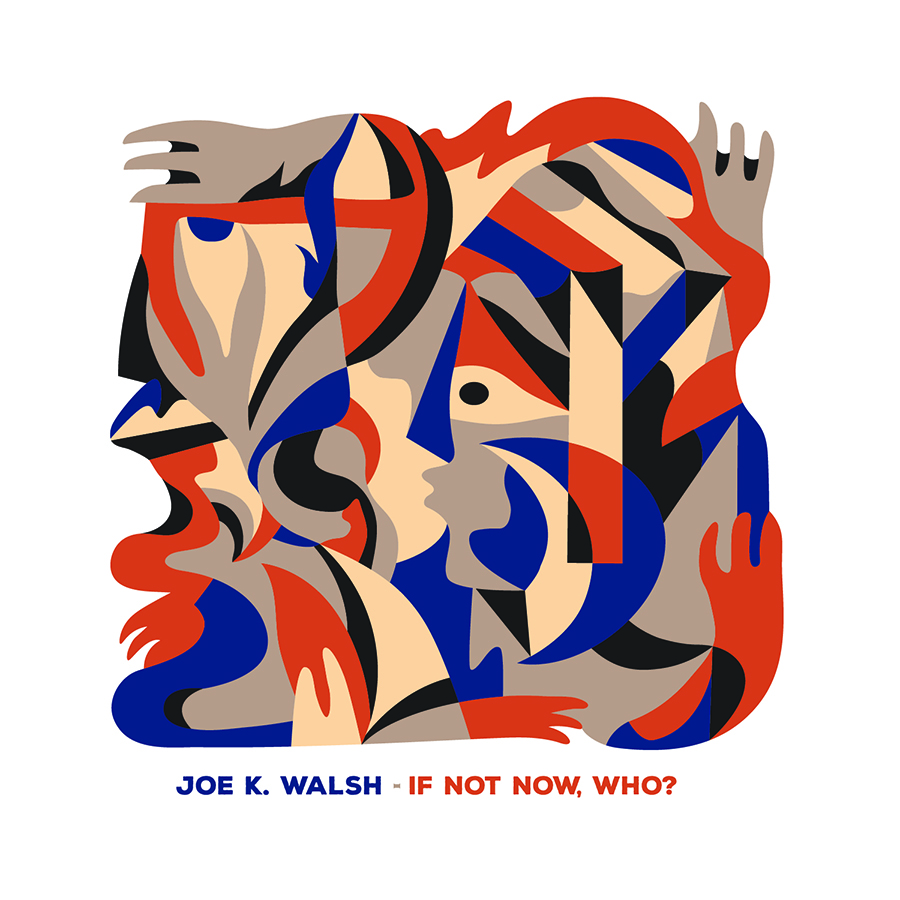 Just as rock music of the 1960s expanded into the fusion era in the 1970s, so did traditional bluegrass music as it morphed into the newgrass era in the early 1970s forward. Although this new sound was still centered around banjo, fiddle, acoustic guitar, and mandolin, elements of jazz, folk, rock, and classical motifs filtered in with expanded chord voicings, rhythmic variety, and a more compositional approach harmonically.
Continuing that tradition of newgrass pioneers is mandolinist Joe K. Walsh, a distinguished faculty member at the Berklee School of Music in Boston. His recent album, If Not Now, Who?, recorded at Great North Sound Society in Parsonfield, Maine, engineered by Ethan Setiawan and mixed by Dave Sinko, takes the listener on an eclectic musical journey through ten tracks of original instrumental compositions.
Walsh's core nucleus bandmates are Karl Doty, bass; Matt Flinner, banjo; Grant Gordy, guitar; John Suntken, drums; and San Diego native John Mailander on fiddle. The opening track, "Madison" (co-written with Mailander), is set to a blues/rock chord vamp with fiddler Ella Jordan sitting in on the track, exchanging blues-tinged licks with Mailander throughout. Their solos follow on the heels of Walsh leaving no doubt of his improvisational diversity with well executed blues/rock phrases on mandolin.
The pastoral compositions, "When It's Over" and "Palmer" illustrate Walsh's elegantly flowing melodies over triadic chord changes with all in the band soloing in context to the chord progression. Both tunes in similar parlance to musical counterpart Pat Metheny's guitar compositions, which draw beauty from garden variety chords and expressive major pentatonic scale note combinations.
Gordy and Flinner on guitar and banjo respectively get to strut their stuff with sizzling solos filled with chromatic phrases and outside tones on the uptempo tunes "Globe Thistle" and "Rosalind," fueled by Doty's walking bass figures in tandem with drummer Suntken's nifty brush sticks work on the latter.
On the title track, a 6/8 time jazz waltz, Walsh demonstrates how to improvise gracefully combining double-time phrases over the lilting chord changes as Gordy and Flinner follow with hard-driving double stop licks as the tune builds to a polyphonic conclusion before tamping back down to the dulcet melody tones.
"The Bills," a country waltz, co-written with Andrew Marlin, sets the stage for a tribute to bluegrass progenitor, mandolinist Bill Monroe, and contemporary guitarist Bill Frisell, with a clever and playful back-and-forth series of traditional down-home bluegrass licks and pleasantly dissonant tone clusters, diminished arpeggios and chromatic runs from each band member's solos, successfully pulling off the musical contrast.
Walsh and Mailander shine on the triplet-note melody-laden track, "Home," weaving effortlessly through their solos over the medium tempo two-step backdrop reminding us of the Appalachian musical roots in contrast to the minor key track, "Tom," a beautiful melody set against Doty's ostinato bass figure with Mailander's expressive fiddle solos leading the way.
The closing track, "41 Years," a co-write with Jordan, is dedicated to Walsh's parents' wedding anniversary, appropriately a regal and uplifting melody with orchestrated violins in a ballad format with Gordy hitting all the right colorful notes on his interlude with Walsh chiming in with a nice back and forth improvisational conversation with the harmonized violins.
This album is a delightful listen as each track has its own compositional personality as Walsh demonstrates his versatility as not only a composer but a flawless technician on his mandolin and mandola, bolstered by the high-level musicianship from the assembled band, all playing in perfect synchrony to the intricacies of each composition…an album that can be enjoyed and appreciated by audiences throughout the musical kaleidoscope.