JEFF BERKLEY & THE BANNED: I Can Reach the Stars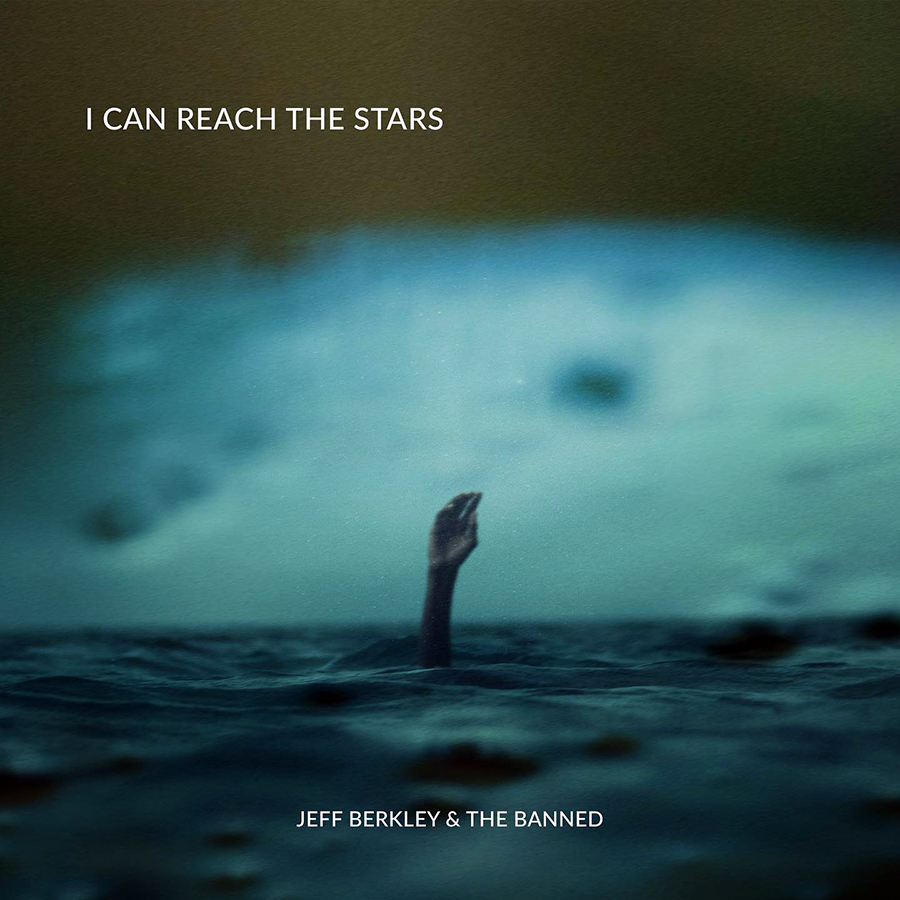 I Can Reach the Stars is the first album released by Jeff Berkley & the Banned, although everyone who took part in it has a multitude of recordings and projects under their belt. It was recorded at Satellite San Diego, except for a couple vocals and guitars that were recorded on Berkley's cell phone at home; the basic tracks for "Hearts Don't Break" were recorded at Beautywood in Oceanside. Besides singing vocals, playing guitars and six-string banjo, Berkley produced, recorded, and mixed it; Amelia Sarkisian assistant engineered; and Robb Robinson mastered it. The rest of the Banned are Josh Hermsmeier on drums; Jason Cox on percussion (who also designed the album cover); Rick Nash on bass; Josh Weinstein on keyboards; Ted Stern on pedal steel; and Cathryn Beeks, Sandi King, and Josh Taylor on backing vocals.
This album drifts between progressive, pop, and Americana, refusing to apologize for not sitting squarely in any one of them. It feels hopeful, yet colored with melancholy, and it almost pleads for resolution in a variety of circumstances. There are conversations on society, love, and trying find and to hold on to the intangible.
As a vocalist myself, I have a huge appreciation for the art of harmony and how it can take a song from great to transcendent. I am simply floored by the nuance and choices Cathryn Beeks makes when crafting her harmonies. She and Berkley ride side by side in cadence and inflection, like parallel tracks that carry the locomotive that is this album. It really couldn't be better. But wait, it does get better! We then have Sandi King and Josh Taylor with their ethereal vocalizations of oohs and aahs providing a base for everything to float on, a safety net, and more than once they catch and hold me aloft. I don't ever want to come down. To top it off, Berkley's voice in the lead is like mahogany—rich and deep—and full of ache and joy at all the right moments.
The opening song "Hold the Line" is steadfast and courageous and begins with an undertow of guitars that pulls and pushes me forward. The chorus comes early at :40 and breaks through the tension like the end of a storm, with backing vocals that lift the feeling and change the mood to hopeful. "I can see the sun, I can feel the moon, I can reach the stars, and I can know what's true." It inspires more than a vision; it makes me know I can do all that. too. Beeks joins Berkley almost word for word for the second verse with inventive and intuitive harmonies; it's truly picture perfect.
"I Won't Let Go" is the most resolutely hopeful of the album, and it takes me straight to tears. The two opening chords on guitar are magic as they're repeated throughout. Weinstein carries the beat at the start on keys, accented by Hermsmeier placing gentle cymbal taps in just the right places; Stern joins them on pedal steel to send it upward, a gift; Berkley's guitar guides me where he wants me to go. It's easy, I go there willingly. This is soul searching, in spite of religion, and knowing we all hold both dark and light inside us, we make the choice to keep going no matter what as the chorus, with all backing vocalists lovingly filling every space, emphatically repeats, "I won't let go." At 3:16 Berkley begins to speak, declaring desperate attempts at finding peace and the elusive state of "being still." Weinstein on keys and Hermsmeier on drums build to bring us back to the chorus to close. It is a wave of emotion and I am held on the crest as it is repeated again and again. At 4:50 Hermsmeier begins to break free, generously adding more of everything in between his steady beats until I'm spinning or bouncing off the cushions, to end up blissfully flat on my back at 5:34 when all but guitar and pedal steel drop out and those lovely voices continue to carry the chant, "I won't let go." This is my favorite song here.
"All the Way Down" is the first of two progressive pieces in the lineup, and one of the two cell phone recordings. It begins with acoustic guitar, spiced with percussion and piano, joined by electric guitar, deep and gripping. It's dark and dramatic but not overstated. There is tension and I can sense the air or feel the presence of openness, like standing on the edge of a cliff. The song moves slowly, purposefully, furthering that feeling, almost foreboding. Counter to the mood is Berkley's voice as he begins to sing the first verse, "All the way, you and me, from the mountains to the sea…" It's comforting and reassuring. Yet, the chorus arrives in surges of beautiful dissonance that do in fact take me "All the way down." The melody, the harmony, pedal steel, percussion, and especially the piano, all but push me down and hold me under. I'm released at 1:26 with a subtle and uplifting electric guitar solo that encourages me to keep going. The second verse settles the disquiet until we're back again at the chorus, which, by this time, reflects even more unrest, and the piano is fabulously haunting. The whole time it feels like I'm waiting for something, like something is coming for me. It's quite the ride.
"Power Supply" begins with a pedal steel undercurrent and the guitar sliding along comfortably over the top with a tag that carries me forward. The arrangement is initially open and sparse, with the piano adding layers and accents here and there. The lyrics touch on Berkley's need for an external grounding and energizing force, which he is grateful to find in his relationship. The chorus breaks big beginning with backing vocals that fill in the gaps and Beeks harmonizes impeccably alongside Berkley as they sing, "You are the writing in the sky, the truth that kills the lie, when I cannot electrify, you're my power supply." After the bridge Berkley comes back to sing alone for a stripped-down version of the first two lines of the chorus, then everyone comes back in to power up the last two lines, followed by that same guitar tag from the beginning to finish the song.
Co-written with Dave Howard, "Tomorrow" opens with pedal steel front and center playing a distinctive and bright tagline. An honest, feel-good love song, though it's not sugar sweet, it is realistic. Berkley sings, "Try to deserve you everyday, sometimes there's just no way, all there is to say is sorry…" Expansive backing vocals sonically light up the chorus until finally it resolves with one accepting and forgiving word: tomorrow. In comes pedal steel again to fill the spaces between verses and choruses, though it is subtly ever-present throughout the song. Berkley reveals himself philosophical with, "Time just doesn't matter, and time just isn't matter." At 2:50 he plays a short perky guitar solo followed once again by the chorus and pedal steel to close.
These and other worthy titles written by Berkley include "Hearts Don't Break," on which Sam Hunt contributes on guitar; "She's All the Things" (co-written with Shawn Rohlf); "Today"; and "Set in Stone." They also cover and do justice to both "The Killing Moon" by Echo and the Bunnymen and The Cure's "In Between Days."
Reviewing CDs has been like building a soundscape neighborhood in my mind, one album structure at a time. This one is an expansive estate with a swimming pool. Simply put, go get this album right now and dive in deep. I Can Reach the Stars is available on all streaming formats.