MIKE POPE: Songs for People (High & Low)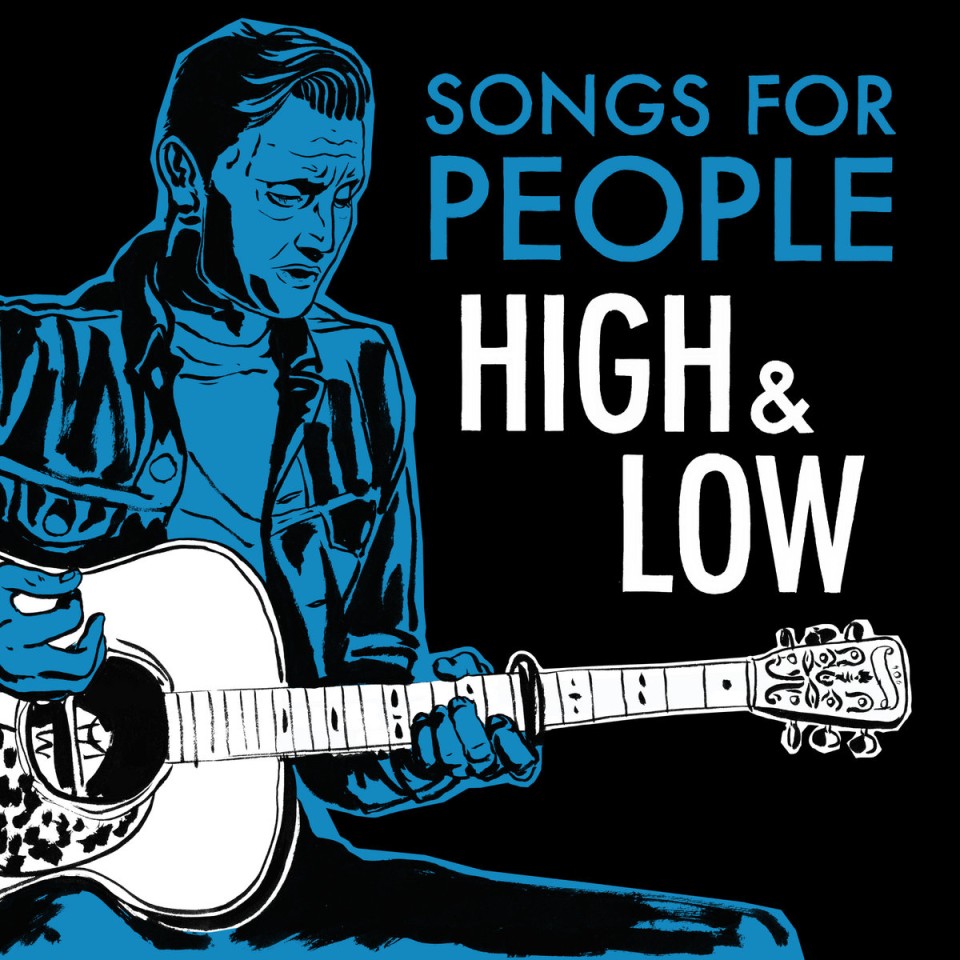 You'll find a lot to like about the CD Songs for People (High & Low) from singer/songwriter/guitarist Mike Pope. Nine of the ten tracks are original words and music showcasing Pope's intellectual lyrical depth amid his smooth-as-silk acoustic guitar Merle Travis fingerpicking accompaniments in the mold of many of the fingerpicking masters such as Elizabeth Cotten, Dave Van Ronk, and Reverend Gary Davis, duly noted on the tracks "Steep Cracked Rocks" and "Shooting Star."
In the mold of many of the traditional folk crooners, it's not about the voice but the message as Pope's booming voice rings out boldly on the opening track "Mirror." "Heard you got another dollar, what's that to ya…are you wanting another chance at hallelujah." The powerful presence of the celestial vocal chorus harmonies from Danica Pope and Monica Daniels blend perfectly with Pope's out-front muses.
The minor key track, "Teach to Sow," is accompanied by wall-of-sound textures from Orion Ferguson on synthesizer supporting Pope's recurring theme, "and that's to teach what can be known…and that's to sow what can be grown." Pope shines instrumentally and vocally on "Maryanne," with lyrical shades of early Bob Dylan and Leonard Cohen, accompanied by his melodically rich acoustic guitar fingerpicking patterns. "And all that she asked of me was to be thoughtful…not to go on singing my words like they were gospel."
Clinton Davis joins the fun on violin, backing Pope's instructive words on "St. Augustine." "He kneeled down and he prayed, like an actor on a stage…and he asked me if I prayed, I guess he called that spade a spade," followed by Davis and Brady Alvarez on banjo, breaking into a full-blown, up-tempo country hoedown. The haunting cello/violin tones from Peter Hirsch and Anna Levitt, along with the repetitive piano motif from Jody Bagley, provide the backdrop for "My Gods," with Pope's words building in intensity as the lush vocal chorus of Daniels and Danica Pope gradually join in.
"Ain't It Fine" is an uplifting lyrical track featuring a full chorus of voices all the way through against Pope's flawless Ragtime fingerpicking guitar pattern. "And we can build our lovely tower, and make the walls thick and steep, and make it ours and no one else's." In the same vein, the Townes Van Zandt tune "None but the Rain" showcases all the vocalists all the way through amid an array of lyrical metaphors. "Who'll be your lover after I'm gone…will it be the moon that yearns to your sighing…will it be the willow that hears your lonesome song."
Pope's musical and lyrical arrangements are a refreshing break from much of the current overproduced and often auto tuned tracks we are inundated with. He takes us back to the coffeehouse days where an audience is there to listen to the lyrics of the songwriter and the message they are conveying with rapt attention before the days of cell phones and short attention spans.