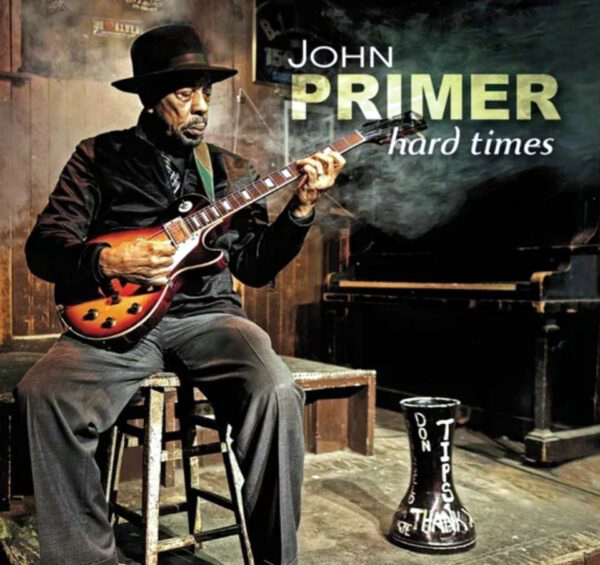 Hard Times is the latest musical project from Chicago bluesman John Primer. It contains 13 original songs from one of the most prolific blues musicians still walking the planet. John Primer is a master craftsman on the guitar and his blues are rooted in the rich farmland around Camden, Mississippi. "When I was in Mississippi" John says. "I was familiar with Muddy Waters and Jimmy Reed and Howlin' Wolf and Lightnin' Hopkins. You know, Arthur 'Big Boy' Crudup…all the old guys like Big Bill Broonzy." He adds, "But when I came to Chicago I studied all types of music."
All of those influences can be heard in this disc. From the opening track, "You Got What I Want," through the final notes of "Whiskey," Primer's Real Deal Blues band have that harp-driven, rhythmic cadence that gets everybody up on their feet and out on the dance floor. The title track, "Hard Times," is a calling card for every bluesman; with that wicked slide and Johnny Iguana's menacing piano, Primer's voice is pleading, "they just won't let me be."
Listening to "Blues-Blues-Blues," "Trying to Make You Mine," and "Hot Meal" give you a little taste of those deep, rich, slow blues—like sitting in an almost empty bar about three o'clock in the morning. Yeah, like that.
Within the album, I found a most unexpected but pleasant surprise: a track called "Tough Times." The song is the debut from the next generation of the Primer family, John's daughter, Aliya Primer. John smiles, "She's seventeen years old and she can sing." It's little wonder since Aliya grew up touring the world with mom and dad from the age of three.
I can't speak to this band enough. John has put together the rhythm section of Lenny Media on drums, David Forte on bass, and harp player Steve Bell; they are the Real Deal blues band. Then you add guest artists like guitarist Rick Kreher and Johnny Iguana on keyboards, and you've got all the ingredients for what Primer calls the "traditional blues, the way it was played, the way it was made. If you don't have the feeling of it, you just can't do it. My feelings come from hard times and hard living and that's the way I play…from my heart."
Gritty and identifiable, Hard Times is a blues album for the 21st Century. And John Primer at 77 years old says he's up for the task. "I'm going to keep it real…the original sound and keeping it as close to the original stuff that I learned and I don't try to change it. Everything you see me playing on stage is going to be real close to the original stuff."
Lucky us!