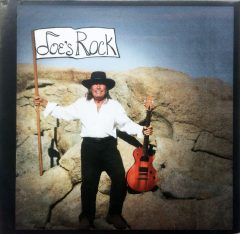 Indian Joe is familiar to many Troubadour readers for contributing guitar and songs to the Ramona band Dusty and the LoveNotes. Joe is a committed electric guitar specialist whose forte is straight ahead blues-rock guitar, and his influences are easily identified in his music: Chuck Berry, Keith Richards, Johnny Winter, and Billy Gibbons. In 2014, he released Red Rock, an all-rock, all the time solo project of muscular originals that were basically skeletons to transport his slick solos.
Joe is back with a new CD, Joe's Rock, and the title should be a tipoff that he hasn't made big changes in his sound. That includes his vocals, which continue to be a low, endearing growl that fits his musical personality. The ten songs again are basically a back-to-basics guitar jam session as Joe takes 12-bar structures that are as old as the first electric guitar, and hangs some lyrics on them, adding generous guitar and harp solos–often doing several to include slide, harp- and straight up guitar that will sometimes pay homage to a particular noteworthy favorite. Throughout, his solos are antiseptically clean and almost restrained; some effort went into cleaning up these tracks, which are played by Joe with only drum accompaniment.
Things get underway with "Have a Good Time," an exercise in fun and guitar that finds Joe singing about discovering that they won't allow rock 'n' roll in hell, so he ends up trying Saint Peter, who wouldn't let him in either. In between his quicksilver lead licks, this tune may be the only one on the disc that has a vocal bridge. "They Call It Noise" kicks off with a Chuck Berry intro and the rest of the way, it is a Keith Richards clinic as he complains about his neighbors that don't like his loud practicing. Halfway through, he whips through some slick slide work and nice harp, here as elsewhere, Joe packs plenty of action into a three minute cooker.
"Beach Bar Blues" is just that, rolling, Muddy-Waters-style, with a nice vocal turn and slide break. Next up, "Loud Party Music" uses the riff from the Zep's "Whole Lotta Love" to lead off each verse. Joe's lyrics score with "Teenager Livin' at Home," describing his idyllic, hedonistic existence, able to "Talk all I want on the phone/ Eat my kind food/ Walk around in the nude."
The program is full of up-tempo boogies that give Joe a chance to shift to the upper box on his fretboard, like "Gotta Love That Rock and Roll," "There's a Party Goin' On!" and "Rock and Roll is Here to Stay." Perhaps one of the most fun of all is the program closer, "Alfalfa Sprouts," to a familiar riff that has launched a hundred delta blues workouts, Joe sings about how "There's no doubt/I can't live without/My alfalfa sprouts." The boogie continues for six minutes, through a brief bass solo, and a nice, understated and clean guitar break. The kind of licks that are an Indian Joe specialty on Joe's Rock.