How Creative Can You Be? The ArtBeat Lesson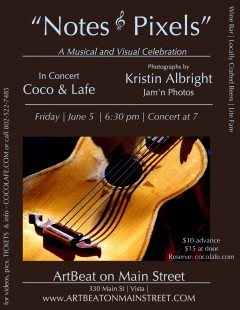 The successful musician today is often the person who can create gigs instead of competing with hundreds of others for the established ones.
The creative thinker who can open up new markets or outlets for their music.
The instrumentalist who plays on the Vancouver Island Ferry every summer and sells thousands of recordings to tourists. The busker who finds the restaurant gigs. The cover-artist who organizes fundraisers for food banks and also goes out and finds the sponsors to pay for it.
ArtBeat on Main Street in Vista has done exactly that for artists of many media. They didn't think small. They didn't think impossible. They went wild.
Let's open an art gallery. Let's make it a cooperative, where artists who exhibit also spend time there every month making art and meeting visitors. Let's add a wine lounge so people can meet and socialize while they explore the new exhibits each month. Not different enough?
Let's have classes taught by the exhibiting artists! Brilliant!
We must have a boutique with inexpensive to high-end art for gift givers.
Let's have a trivia night. An open mic night. Regular concerts from locals and beyond. A monthly comedy night with nationally touring comedians!
New people to discover the gallery! Laughter amongst the oils and watercolors! Let's make the sculptures dance!
We'll rent the space out cheap to groups that need meeting space and provide coffee, tea, and light fare. Can you imagine the book club gathering in a gallery with a glass of wine? FUN!
Good enough? Creative enough? No?
Let's put a web cam on the roof to broadcast live the vibrant street we're on. Let's work with other businesses to support community events. Let's make it a place where originality lives and creativity jumps from heart to heart, brain to brain, and tongue to tongue.
Let's add a patio. Craft beer from local breweries that are willing to come in and do tastings. Wine from local and regional estates. This will be fun!
Let's call it ArtBeat on Main Street.
The Troubadour met with gallery owner Kait Matthews on ArtBeat's patio to ask how it all came about.
"Twenty-five years ago… I faced a personal dilemma: whether to pursue a career in the theatre or become an illustrator. Today I've come full circle in my second career choice…" (from the bio of ArtBeat's owner, Kait Matthews).
She spent years in theatre in LA. "I was making sketches in the dressing room, constantly doodling. One day I thought, 'What am I doing'? And went back to school for a degree in fine art."
Escaping LA, she and her partner wound up in Vista, where there was one art gallery. When it closed, she and another artist dreamed up ArtBeat.
What inspires Kait? What would she recommend other artists do?
"Create a community. Like-minded people getting together to talk about each other's art over coffee. A road trip with artist friends. Maybe to a museum. Or anywhere. I don't think people can create in isolation. Not totally."
Her personal art? Does she still have time for it? If a musician focuses on business, does their music suffer?
"I'm learning a lot being surrounded by so many creative people and their art. It makes you better. But yes, I have tons of ideas that I fear I might not be able to move forward with. I sketch them out, but I have entire projects I'd like to complete. My job right now is to get the gallery to where it can support itself without as much of my time as it needs now. It's getting there. I hope so."
There are over a dozen events happening at the gallery every week. Who thought all these up?
She laughed. "We have 3,800 square feet. I say 'yes' to everything!"
Like?
"We recently had a puppet show with 50 people jammed into the [performance] room. So much laughter!"
"We hooked up with Dustin Nickerson who is heavy into the Los Angeles and San Diego comedy circuit. He books the best comics for us."
"And I love supporting musicians… I listen to music while I paint. I think most artists do."
Which genres? "Hmmmm… it changes. It might be an audio book, maybe about a particular artist. Blues or reggae or country music. I have to be careful with Willie Nelson, though, or I might dip my paintbrush in my beer.
"We had a fashion show for charity and created a runway where the rooms wrap around. We raised about $2,000 for the 'Soroptimists' [woman optimist club]. Hilarious fun."
Frustrations?
"The artists who hang their art and then sit at home. We don't have much of that here because everyone has agreed to spend time at the gallery doing art and meeting people who browse. But some artists don't invite their friends down to have a glass of wine and see the new art they've just hung. I understand some have a reluctance to use social media, but still, they could reach out and share what they're doing with friends and family."
We really wanted it to be "…a creative hub.." for artists and "…a place to be entertained…" for the community.
They've done it.
Coco & Lafe will be performing at the concert and photography celebration with Jam'n Photos by Kristin Albright on June 5th. Go to: www.ARTBEATonMAINSTREET.COM or www.cocolafe.com for details.