Guitar Workshop Plus: An Opportunity to Learn While You're Having Fun!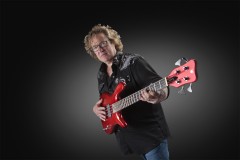 Stu Hamm
Musicians looking to stretch their talents, possibly learn a few new tricks and mingle with like minded folks won't want to miss Guitar Workshop Plus, taking place at California State University San Marcos on June 21 through 26. Based in Canada, founded in 2002, GWP is an intensive, week long music-study "camp" that's second to none, pulling in top talent among its instructors and bringing in students from around the world.
"Our program was created to give people of all ages, levels, and musical styles the opportunity to learn and grow as a musician regardless of whether they have been playing for a few months or thirty years," said GWP director Brian Murray. "We wanted to create an atmosphere that was very supportive, non-competitive, and fun while at the same time providing top notch instruction and performance opportunities." He points out that there is a wide spectrum of attendees, from teenagers to adult hobbyists to semi-pro and pro players who attend, so there is something there for everyone. "With all the budget cutbacks to education, the arts and music are usually the first to go, unfortunately, so we are kind of filling the void for those students. Then we have the adults who love to play but don't get the opportunity to improve their skills or play with others, because of work and life, so they really enjoy our program also," he said. "If they have been playing for even just a little while, they will get a lot out of it. We tailor the instruction to the level of the student so everyone walks away with lots of material."
The decision to expand beyond GWP's Canadian base was based on student feedback. "We have been operating for about 14 years or so and every year we have people attend our Toronto and Vancouver locations from all over the U.S., Canada, and Europe. Every year we'd have so many of our attendees from the U.S. say "Please open up in the States. We have nothing like this there. The other programs don't even compare." Expanding was initially put off because so many students were making the trek to Canada anyway, but once the decision was made, it was finding the right location that sealed the deal. "Cal State San Marcos is just a great location for us because the facilities lend themselves so perfectly for what we offer. It has modern classrooms, an auditorium, great accommodations on campus for those who would like it, great food facilities, and more. It's also an ideal location because people from San Diego and surrounding area can easily access it and so can people from Orange County and L.A. County."
Sessions (aka classes) can vary in attendance at GWP, up to 150 people, "but we keep the classes small so people can get the individual attention they need." The music program offers all different styles, bringing in different high profile guest artists to teach and perform during each of the sessions. "We've had everyone from Steve Vai, Joe Satriani, and Alex Lifeson in the rock world to John Scofield and Mike Stern in the jazz world to Robben Ford, Tommy Emmanuel, and countless others. This year we have rock icon Paul Gilbert, bass guitar legends Stu Hamm and Rhonda Smith, blues hero Duke Robillard, jazz legend Mike Stern, and many others. But those are just the guest artists, which are like the icing on the cake. The cake is the actual program and our amazing instructors."
Many top names are involved for 2015. This is no fan meet and greet, but rather a chance to work on your craft with some of the top players in the world. Guest artists this year include Paul Gilbert (Mr. Big, Racer X), guitarist and clinician Andy Timmons (Danger Danger, sessions), bassists Stuart Hamm (Joe Satriani, Steve Vai) and Rhonda Smith (Jeff Beck, Prince, solo), blues player Duke Robillard (Roomful of Blues, Fabulous Thunderbirds), jazz player Mike Stern (Miles Davis, Bill Evans), guitarist Gary Hoey, fingerstyle guitarist Muriel Anderson, shredder Dave Martone, acoustic and Celtic player Tony McManus, rock professor Jon Finn, and drummer Dave Langguth (Nelly Furtado). Local faces among the instructors include guitarists Wayne Riker, Israel Maldonado, and Mike Ruggirello as well as drummer Bill Ray.
Is it difficult to gather together this caliber of instructors? "Yes it is!" Murray laughs good naturedly. "But it's worth it, because at the end of the day, the attendees are getting an experience they can't get anywhere else and the teachers love the experience as well. It's a very unique atmosphere that we create which is really hard to describe in words but, once they take part in it, they want to come back.
Guitarist Wayne Riker has been performing for 50 years at venues around the country and had worked with Murray at a music workshop in the 1990s. When Murray decided a California event was in the plans, he contacted Riker. "Knowing I was based in the San Diego area, he contacted me to help him organize a staff and spread the word," he said.
Riker, who will be teaching a blues class, has officially retired from private lessons, but is looking forward to working in a classroom setting at GWP. "It's a great opportunity to make new friends and musical kinships, along with gaining renewed passion and inspiration for your own personal playing," he said. "I'll be teaching the blues class and am looking forward to the whole experience of sharing my knowledge with a diverse musical community of all ages, styles and playing levels with folks from all corners of the globe."
According to Riker, the pleasures in teaching at this level are many. "It's lighting candles for future players, seeing the gleam in their eye when they successfully learn a tune. Nothing makes me happier than to hear from former students who have gone on to successful teaching and performing careers decades later, or from a hobbyist who stuck with it after much positive reinforcement," he said.
While there will be socializing during the event, activities will be laser focused on working on your craft. "We pretty much do music morning, noon, and night," Murray said. "Classes and seminars during the day, clinics in the afternoon and evening, and concerts at night. It's very inspiring." One of Murray's favorite things about GWP is those live performances. "We have optional open mic performances as well as ensemble concerts where the faculty led ensembles play," he said. "There have been many memorable moments over the past 14 years or so and you can see some of them on our website and YouTube page."
Murray stresses that interaction among musicians, in classes and performances, and an important part of GWP. "Students walk away with a lot of material to work on regardless of which course they take, so they get the 'nuts and bolts' with chord voicings, scales, new soloing concepts, etc. But they also get the opportunity to play with others who are at their level which is so important. These days, there are so many people who think they can learn to play by sitting in front of a computer and it's so far from the truth. Music is a language so you need to interact with other musicians and play with them in order to really speak and understand the language. We provide that full experience for them. They also walk away with a lot of inspiration and that's something that they can only get in an atmosphere like this. Getting to sit in a small room and learn from the greats and even playing with those guest artists is very, very inspirational."
For his part Murray is thrilled with GWP's expansion, the business side of things. But the biggest joy he gets out of his work is more heartfelt. "I'd have to say it is seeing how much our students develop," he remarked. "We get to see people on a yearly basis because so many of our attendees come back time and time again. Therefore, we get to hear and see them play after they've had time to practice the things they learned the previous year and it's really amazing to see how much they improve and how they expand their musical knowledge. We've seen teenagers who only knew rock turn into great blues, jazz, or acoustic players. We've seen adult hobbyists who could only strum on an acoustic guitar become very confident playing lead solos on a pop, blues, or rock tune. So that is very rewarding," Murray said.
www.guitarworkshopplus.com