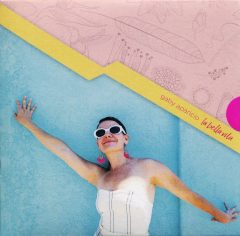 Gaby Aparicio's has a new release, titled La Bella Vita. The singer/songwriter got back into music after her career was interrupted while in New York in 2005 by the loss of recorded music files to the massive Hurricane Sandy. Changing coasts, she recorded a one-off live EP, in 2014, Live at Pacific Beat. The new album collects eight Aparicio originals that fit consistently in the acoustic pop category with Latin and Brazilian influences, and a 50/50 mix of Spanish and English lyrics. This project is fully realized with a full band on most tracks and winning arrangements. With bloodlines that trace to Uruguay and Italy, Aparicio has been billing herself in the past as Gabriella and La Buena Onda, but has changed to her full name to honor the spirit of her mother, who passed after a long illness recently.
Recorded for the most part at Pacific Beat by Alan Sanderson, Aparicio's lead and background vocals and nylon stringed guitar are supplemented by a number of local studio players including James East, Kimo Shim, Jake Najor, Julien Cantelm, Jamie Shadowlight, Stefanie Schmitz, and others. The set gets going with "Captivate Me," which lurches forward with a Bossa Nova stutter-step as she sings about her "jungle love," "You fascinate me with the fire from a breathing dragon/ Flying through the night you wait for the dawn." Aparicio's vocal is delicate but securely in charge as harmonies join her to build up the impact. "Se Va" follows, with a Latin pulse and Aparicio singing about the universe and the magic of life, and how the members of the human family need to pay attention. Next up is "Tango Trieste" which has more of an exotic vibe, as befits a tango-helped by Shadowlight's violin touches; the beat is insistent and sensual, as the lyrics tell of loneliness after being abandoned by a lover, yet she still has the tango for company as she searches for him.
Aparicio sings "Corazon" cheerfully, an intimate love ballad that addresses a lover with reassurances that she is his, and no need for embarrassment or holding back, she isn't. It is the catchiest song on the disc, and the arrangement enhances the connection. "The Best Version of Me" has a straight up pop feel that makes good use of Schmitz' tenor sax to flesh out its melody, about showing the world your true, strongest self. It deserves extra points for a scat-sung fade with Aparicio and the sax in a vocal dance. The title tune is a lighter-than-air love song that celebrates Aparicio and the man of her dreams, with Cantelm's drums leading a brisk beat and a choir of backing vocals singing about the beautiful life. The program ends with "Matter," with just Aparicio, her guitar, and backing vocals which soar high with its message for all of us, "If we all give love a try/ You know that we share the same matter…Let yourself fly to the sky/ Do what makes you feel alive." A nice thought to conclude a good listen.