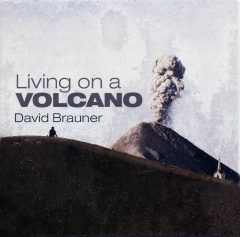 David Brauner's fifth release since 2013 is titled Living on a Volcano, and it is a big, 18-track batch of tunes that presents his unique blend of folk, rock, and pop with both Faith-based and secular themes. He writes music with lyrics that may convey messages about getting right with the Lord in a folk-rock ballad on one song, then within a track or two front, a pounding guitar rocker about a messy breakup. Throughout, the constants seem to be Brauner's gravel-raw, friendly vocal presence and his willingness to try anything.
As with past projects, he has solid studio support. The album was produced by Sven-Erik Seaholm, who plays numerous instruments. Also on board are Paul Denton on bass, Wolfgang Grasekamp on keys, Jen H. on fiddle, Rich H. on pedal steel, harp and string instruments, Ric Lee on drums, and Charlie Loach on electric guitars. The arrangements envelop Brauner in a thick pocket of layered percussion and keyboards with guitars making occasional appearances, and while about half the songs are religious, many are about self-improvement and treating one another better.
After the folk-rock church tune "Come In," Brauner scores with the rocking "Don't Cry Easy," which finds him describing a broken heart, with overdriven guitars powering it, as he laments being unable to call his absent lover, who won't answer the phone. "Is There More?" uses a 3/4 beat to ask questions of a companion about what signs of commitment she wants, "Now your heart is like a Faberge egg/ Fragile and priceless and locked away." Reggae makes an appearance on "Lighthouse," as Brauner makes it clear that the Lord is his beacon.
Jumping genres, it is time for rockabilly in "Frequency of Love," as Loach provides some filthy six-string support while Brauner sings of metaphors for his love as a radio station. "Sadie" is interesting as yet another 3/4 waltz ballad with some really nice pedal steel accents, about his yearning for a past lover who "just disappeared one day like the smoke from her cigarette." After another sharp secular rocker with nice harmonies, "You'll See," Brauner sings two songs that share the same vibe. The title weaves a story from the viewpoint of a man who has adopted Hawaii as his home, seeing similarity between his disposition and the churning lava mountain, where he feels most comfortable. "Tsunami" follows with a similar melody that describes living in the knowledge that time and nature can and will sweep away all the artifice of this life, sometimes with no warning.
The set is well over an hour, with many other interesting songs like "Say the Word" rocks hard, with Grasekamp's pounding keys sparring with Loach's solo licks. "Took a Trip to New York City" is a shuffle that paints a picture about Ellis Island, smiling on your neighbor, helping sandbag a rising flood, and the distortion of "alternative facts." A touching ballad, "Polaroid (50 Years)" is about a couple reaching their golden anniversary, joined in love for a lifetime.
Versatile David Brauner continues to impress with Living on a Volcano.