FORKROOT: Between Two Cities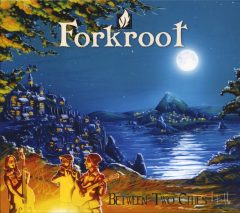 Bands that play Celtic-based acoustic folk and bluegrass music are often steeped in a tradition of established story songs, reels, and shanties that long ago established the templates for the sound. Forkroot is a local trio that takes this to heart on their CD Between Two Cities by writing and performing original material that sounds like the hill and tavern music from 150 years ago.
Nick Montemarano (guitar, banjo, whistles, vocals), Reece Miller (mandolin, accordion, traditional flute, harpsichord, percussion, vocals), and Ryan Kilpatrick (upright bass, vocals) are Forkroot, and the new album's 13 tracks include eight originals by Miller and Montemarano. Along with five vocals, there are many song suites, including six that string three jig or reel segments together.
"Sheraton Brown" gets things off to a rousing start, Miller's song about a man remembering the love of his life, with aggressive mandolin riffs soon echoed by guitar. "The Carlsbad Mariner/Escape from Tear/The Gunslinger" follows, the first of the suites; it opens with an interesting, pastoral flute melody that evolves into bluegrass guitar flat picking, then on to more structured mandolin/flute, picking up steam as it goes, becoming a brisk jig. This tune all uses essentially the same musical riff, and is emblematic of the instrumentals on the album: there are a lot of nifty scales and foot-stomping dance music, yet not a lot of variety.
Another vocal that catches the ear is "No Reason Why," a story tune about a horseman who rode across the land and "brought help to men both foe and friend." It has that lyrical and musical taste of yesteryear that a project like this needs. "Bela/Haley's Retreat/The Second Floor," another original suite, opens with a quiet mandolin figure — a welcome change of pace — before guitar strums signal the start of another dance, ultimately becoming an accordion-led reel. The tradition of vocals about going to sea is behind "Quarter," the best original vocal here; with help from Marika Dvorak on violin this becomes a rave-up in Miller's song about a young man eager to sow his oats, "We've got to get to port/ For time is running short." The accordion and fiddle on this stomper convey the vibe of a well-oiled tavern raising the roof.
The trio do a good job on the traditional "The Bucks of Oranmore/Sweeny's Buttermilk/The Silver Spear," as banjo, accordion, and flute are added at various points to make the three sound like twice that many. Not many will know that the rock band Queen and their guitarist Brian May recorded a song that works as a Celtic folk ballad, "'39." Forkroot's acoustic treatment of it makes it sound like something written in a damp Irish seaport early in the last century.
The disc winds up with four instrumentals out of five tracks to run up the running time to nearly 53 minutes, a couple of tracks too long and tending to revisit the same instrumental territory. That said, there are a lot of catchy moments and worthy songs to be heard on Forkroot's Between Two Cities.