Hi folks! Just wanted to let you know about a few events and shows coming up next weekend. We received a flurry of press releases within a matter of days, and we couldn't decide which event sounded better, so we're going to present them to you menu-style and leave the tough decision-making up to you! Aren't we lucky to live in such a bustling city of art and music?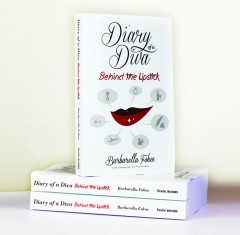 San Diego Local Author Guerrilla Book Fair – 3-6pm:
Saturday, October 25th: The Whistlestop Bar in South Park will host the first Guerrilla Book Fair, an intimate event with local authors of several genres representing many different literary voices of San Diego. Writers include Ben Johnson, Terrie Leigh Relf, Ted Washington, Barbarella Fokos, Justin Pearson, Bonnie ZoBell, Alfred Howard, Sunny Ray, Ken Leek, Vera Sanchez, and Jon Kanis. The event will also feature visual artists David McHank, JerVae Dionne Anthony, and Beto Soto. Roger Lane and DJ Claire will be providing music at this 21+ event. More info here.

San Diego Folk Heritage Welcomes Kathy Kallick Band – 7:30pm:
Friday, October 24th: San Diego Folk Heritage is thrilled to host an evening of music featuring Grammy award­-winning  musician Kathy Kallick and her band. Kallick has been leading bluegrass bands since co-­founding the internationally-­acclaimed band, Good Ol' Persons, in 1975. She continues to evolve as one of the music's extraordinary composers and vocalists 17 albums and participating in multiple compilation projects. Along the way, she has won a Grammy and two IBMA Awards for her part on True Life Blues: The Songs Of Bill Monroe. This all ­ages event will take place at Templar's Hall (14134 Midland Rd. ­ Poway, CA 92064). Admission is $15 for members and $18 standard. Tickets can be purchased at the door or online.

Poway Center for the Performing Arts Presents Charlie Musselwhite – 8pm:
Saturday, October 25th: Another Grammy award-winning singer-songwriter and musician, Charlie Musselwhite, will be in Poway next weekend. Musselwhite and Ben Harper won the 2014 Grammy for Best Traditional Blues Album for their CD "Get Up!" Musselwhite has performed at The White House, on the Tonight Show and Jimmy Kimmel Live, and in the hit movie The Blues Brothers 2000. Adult tickets range from $39 to $49. Senior tickets are $33, and GEICO Youth Tickets (for ages 18 and under) are $14 with purchase of an adult ticket. Group discounts are available for groups of 10 or more, by calling 858.668.4799. Tickets are on sale now through www.powayarts.org and the box office, which is open from noon to 5 p.m. on Fridays, 10 a.m. to 3 p.m. on Saturdays, and two hours before curtain. The venue is located at 15498 Espola Rd., at the corner of Titan Way in Poway.