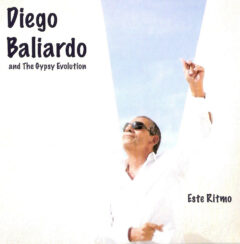 Those familiar with world music are likely familiar with the Gipsy Kings, cofounded by members of the Baliardo and Reyes families in France in the late '80s playing a catchy hybrid of guitar-based Romani music. Fast forward 26 years and 20 million album sales, original founding member Diego Baliardo has struck out on his own with a new band, Gypsy Evolution. The music they play does not reinvent the gypsy wheel; the band has three acoustic guitarists, bass, and percussionist backing Diego's vocals. His gypsy music pedigree is impeccable—his uncle was world-famous flamenco guitarist Manitas de Plata, and while lefty Diego plays guitar upside down, the sound on Gypsy Evolution's debut, Este Ritmo, has some of the fire of past heroes.
Diego's grandsons Marlon and Gibson play guitar on the new album, along with bassist Antoine Ona and percussionist Pacheco Rodolfo. The rhythm guitar and vocals are Diego, who wrote the material, starting with "Me Voy a la Playa," which introduces the frequently reappearing lurching folk rhythm beneath Diego's multi-tracked vocals. The next up tune, "No Tengo Dinero," walks in the same musical footsteps as the opener, slightly less brisk but the template is set: strumming guitars with relaxed Spanish vocals, busy percussion with a lot of hand drumming, and the occasional rapid fire flamenco scales in the mix.
On "Cara Bonita," the blend of centuries-old flamenco and 21st century pop adds another sonic dimension by including Gibson's keyboards fleshing out the arrangement. "Mi Nina" takes a minor-chord approach, along with some more keyboard strings, and the dynamics are a plus that help avoid a trend of repetitive themes that are unavoidable when playing folk music. Likewise, there is accordion added on the title tune, clapping and synthesized strings. The guitars on this project are for the most part kept in their holster except for brief touches, but "Casita Mama" has fills that give a glimpse of the bloodlines that trace back to lightning-fingered de Plata.
The lurching beat on "Loquita Loca" take the familiar gypsy dance rhythm into a territory that includes ska, and adds harmonized backing choruses and sharp horns to give it a mariachi feel. "El Loco" wraps the set with speeded up percussion, a full drum kit, and a lot of singers joining in and clapping-it recalls glimpses of the Romani campfire dances seen in pop culture. And it finishes an easy on the ears collection of music that paints a reverent picture of another culture.