DAWN MITSCHELE: Love Remains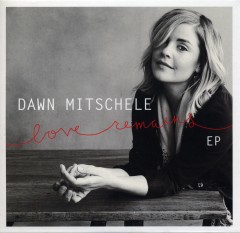 Dawn Mitschele's last offering, The Lehrman Sessions, was a 2011 EP recorded in LA, with plenty of studio trimmings building up "Jump In" and other catchy pop tunes. Mitschele is back with another EP, Love Remains. She wrote all five tunes herself this time, but local producer Gabe Lehner opted for a similar sound with ornate arrangements (strings, horns, plenty of keys) and a near "wall of sound" at times. It works surprisingly well, and Mitschele's songs are strong (two have been placed on network TV shows).
"Lamplighter," a metaphor-loaded poem with a very memorable hook is given added power by a superb arrangement that shifts things up a notch with perfectly placed harmonies and cello touches. For the title tune, things start quietly as she sings about the confusion of love: "This life we made, we were so brave/ We jumped right into the fire." The song cycles from quiet verses to crescendos punched home with horns. "The Queen" paints a vivid picture of a woman who charms her way from man to man, trading her love in return for being treated like a queen, always trading up; the super-catchy melody has a huge arrangement but isn't overdone. Mitschele scores again with "This Time Next Year," closing matters with a personal re-dedication and confessional about her doubts and shortcomings. Tellingly, it leads up to a verse about "Hand me my crown/ And I'll put it on, "the lyrics (online) telling the listener about who "the Queen" might be.
Love Remains is good, refreshing music.