MIKE BOWMAN: Columbus Day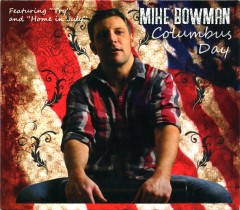 Columbus Day by San Diego's Mike Bowman fits very comfortably on the soft pop-rock, guitar/vocal, singer-songwriter shelf that won commercial favor with Jason Mraz, Jack Johnson, and the lighter efforts of John Mayer. The shelf may be getting a bit crowded, but worthy additions are always welcome.
On his debut EP, Bowman sings about personal relationships — in a very good voice, and his excellent acoustic guitar is the only accompaniment.
His five-song set stumbles a bit with the disc opener, "Try"; this is an attempt at inspirational pop, with a good message (lyrics to all tunes are on his website, a plus) but is too generic to really grab the listener. Not so with "Home in July," a personal letter from Air Force vet Bowman to his stateside girlfriend, conveying poignancy in the expressions of loneliness and separation, "Keep our picture by your bed/ Read my letters from the sand." Harmonies on the choruses help this one sink in. The title tune of the disc resembles a speeded-up "July," but this time Bowman's story is about remembrances of good times spent in San Diego with a free-spirited lover. It didn't work out, but "I wouldn't change a thing." For "Can't Turn Off the Light" he is fresh from a breakup and hurting, and the melody is the catchiest on the disc. "I guess there'll be no sleep for me tonight/ Just your shadow on the wall."
Though Columbus Day lacks unforgettable hooks, it does show a good singer and guitarist whose early songs are interesting and personal.