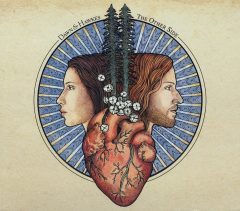 Catching the ear at the latest Texacali Music Fest on Mission Bay in August were Dawn & Hawkes, a pair of Austin folk singer/songwriters. The duo got together in 2011 and toured, then got an early career boost from the TV talent show The Voice in 2013, which gave them a hit single (a Beatles cover), and good gigs, videos, and their releases scoring on the folk and pop charts. Their newest is The Other Side.
The ten original tracks feature Miranda Dawn (vocals and guitar), Chris Hawkes (vocals; acoustic, baritone, electric, and bass guitars; piano; Wurlitzer; percussion), Zeke Benenate (upright bass), Clint Simmons (drums), Trevor Nealon (Hammond, Mellotron), and Chico Oropeza (mandolin). Nicely recorded by Hawkes with some help from Benenate, an added bonus is the inclusion of the complete lyrics on the artwork.
The music is mellow but interesting throughout, starting with "Highway," which introduces the warm and organic harmonies of the two singers in a strong arrangement that propels story of Hawkes' anguish at separation after a breakup. Now, he just keeps on going when he gets to her exit sign. Next, "Trees" is heard in harmonies throughout, somber with an assist from cello-effect keys. The interesting lyrics tell: "In a past life we were trees you and I/ and we stood for centuries/ by each other's side." The bittersweet vibe is heard again on "Ordinary Day," a song has some pop bounce but, again, minors predominate as the message is about the loss of friends and loved ones and the effect on those who remain. As in other spots, Hawkes' guitar playing is impressive.
Dawn is in the lead vocal slot, with lots of harmony support from Hawkes, for the highlight "Battlefield." It is catchy and fully realized, as they sing about avoiding the pitfalls of broken romances by: "We'll make our agreements and draw the line/ You stay on your side, I'll stay on mine;" but by song's end promises are made to shelter hearts and heal wounds. "Stardust" is unusual genre-wise even for a project that is eclectic—a bluesy ballad that is easily the longest track, with Dawn singing about how temporary this cosmic adventure is, while the guitar track peels off familiar riffs.
"Hello Mary" is a yet another of the several bittersweet tracks in the set, a straight up folk song about a friend with dementia who calls Dawn on the road all the time: "Though I can tell her mind is gone/ She won't remember—it's all the same/ When she calls I still answer by name." The hints of blues heard earlier dominate "Penny Arcade," which overflows with slick guitar lines and Hawkes' tale of strutting around downtown with his guitar, looking to make a connection with a new lover. The disc wraps with "Promised Land," another personal folk tune built on the same strengths as the other material here: sharp guitar playing, smooth harmonies, and lyrical expressions of hope. Dawn & Hawkes have captured lightning in a bottle on The Other Side.