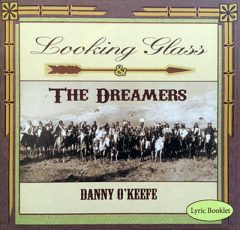 Spokane native Danny O'Keefe is a songwriter's songwriter. He got his first contract when Buffalo Springfield were still together, and 2020 will be the seventh decade of his career. His songs have been recorded by literally dozens of other folk and country performers, and he has never slowed down, with at least 15 album releases. His latest solo project is Looking Glass & the Dreamers.
Remember concept albums? O'Keefe's latest is one, as he did considerable research about the Nez Perce Native Americans in the Northwest, and relates the tragic story of the loss of their homeland—like the rest of North America—to invading white men. The dozen songs, written or co-written by O'Keefe, feature his guitar, harp, and lead vocals, and prominent among the side musicians are Gary Ogan's keys, percussion, guitar, backing vocals, and bass. Milton "Quiltman" Sahme contributes vocals in the Native American tongue and drum to several tracks.
After a rousing instrumental opener featuring Quiltman's chants, a nicely arranged wall of sound anchored by electric guitar, "Looking Glass" has a sedate pace that sets the tone for what follows. O'Keefe knows how to create an atmosphere, and it has a haunting vibe as he relates the life story of a Native American faced with the fact that "the soldier needs our horses and the settlers need our land." It is a touching story, told over eight minutes plus, with stark, almost droning instrumentation that locks in its message even further until the inevitable death in battle of the namesake warrior. "Dreamers" has a backbone of tom tom drums and overdriven guitar, as O'Keefe's powerful tale of dream riders slows down for lightly rendered bridges as he weaves an ethereal spell.
A galloping horse ushers in "Sundance/Who Are You?" and then slows down to relate the how the men, women, and children were slaughtered in the name of religion. Chants add an edge, and again O'Keefe scores with a poignant message that is driven home by a cranked up, guitar-driven coda. "Joseph" is a slower ballad that adds horn and violin, about a meeting between Chief Joseph and a General Howard, over a picked melody. "Tell me Colonel Gibbon, a fresh lieutenant said/ Are we to take us prisoners, or leave them all for dead?/ Gibbon said a-scowling, I'll say this much to you/ A good Injun is a dead one, do whatever you got to do." The result was a four-day massacre, with Joseph's eventual surrender, and there is tasteful dignity in O'Keefe's telling of the tale; it is a disc highlight.
Another colorful tale is "Jackson Sundown," about yet another historical Nez Perce figure. He was known far and wide as a bronc and horse breeder and rider in rodeos; his last amazing 1916 ride while in his 50s is legendary. This is one of those sets that is like chapters in a book one cannot put down. There are several other noteworthy tracks, like "The View from Here" and "Winter Calls," with themes consistently focused on the original Americans and their lives and deaths.