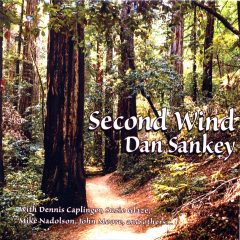 San Diego bluegrass fans should be familiar with Dan Sankey, a fixture on the local scene, playing fiddle and mandolin in a number of bands including Gone Tomorrow, Mohavisoul, and the Taildraggers. One of those steel-string wonders who has also mastered banjo and guitar, he can play any tune and fill any spot playing wooden instruments and singing harmonies, an ace performing the traditional roots and gospel-inspired music of the hill country.
Sankey has recorded an album that is a treasure for admirers of the genre, titled Second Wind. Fourteen unapologetically basic bluegrass tracks, played with zest and skill by some of the best pickers in San Diego; it is a foot-tapping jamboree front to back, with Sankey and company flashing their amazing chops on traditional tunes and covers. Beautifully recorded by Dennis Caplinger, the disc features Sankey playing all four of his instruments and singing, with Caplinger prominent among the support players (bass, dobro, banjo, fiddle, guitar, vocals). Other guests include Suzie Glaze and David Garcia in lead vocal spots.
Sankey opens on banjo, guitar, and mandolin for the standard "Forked Deer" and he is a steady force on each, punching up the beat with his clean picking, maintaining the song's energy while preserving its old-time feel. "Goodbye Marie" has a nice lead vocal by Garcia over tasty fills on banjo and mandolin (Sankey), dobro (Caplinger), and guitar (Sankey); crisp vocal harmonies also help it click. Glaze injects some personality into the ballad "Annabelle," a tearjerker given a boost of sadness by some fine Sankey fiddle work.
Sankey sings lead on the title tune and he does okay, though he is here for his finger work. "My Little Home in Tennessee" is next, with Mike Nadolson at the mic; a better song that really gets the juices flowing with some ear-catching scales by Sankey on guitar, mandolin, and fiddle and Caplinger on banjo. "Big Scotia" is another public domain traditional instrumental that gives Sankey another chance to reel off sixteenth-notes in bunches, this time with a superb guitar solo by guest Joe Payne. Celtic roots are laid bare as Glaze does a great vocal on "Star of the County Down," a style shift to a melancholy folk waltz, with sighing fiddles, mandolin and dobro accents for a highlight. Another broken heart ballad follows, "Heartless Love," this time with Garcia strong on the vocal over Sankey's fiddle, and nice guitar (Mark Rounds) and mandolin (John Moore).
The traditional "Down to the River to Pray" finds Sankey back singing lead, but this time Glaze harmonizes with him and it becomes another of the many satisfying Oh Brother, Where Art Thou?-style moments on this disc, period folk/gospel bluegrass with a rustic touch, but played by pros. Fittingly, it is followed by a Bill Monroe tune, played and sung with verve, "On and On," with Moore and Rounds again on board and Sankey's banjo blazing.
Anyone who enjoys bluegrass music will love Dan Sankey's Second Wind, a delightful collection of good-time acoustic music.