HIGH ROLLING LONERS: Match and Kerosene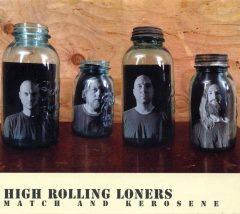 Match and Kerosene is the debut full-length album by the High Rolling Loners, a project that began in 2007 after their 2006 debut EP snagged a San Diego Music Award nomination. A tour, some personnel changes, and a lengthy hiatus followed after some of the tracks were recorded; the disc was placed in a "time capsule" until recently, when the band got back together, finished the music, and released it.
The Rollers are songwriters John Verruto (organ, harmonica, vocals) and Ryan Bartell (guitar, banjo, vocals), with Matt Phillips (bass, background vocals), and Eric Boone (drums, percussion). The 12 originals here are a mash-up of alt-country and straight pop played with a certain offhand flair — the mix and production is murky, the playing sounds spontaneous and almost unfocused, but it actually fits the personality of the band well. The approach recalls The Band, though the material doesn't match.
"Devil and Jesus" opens, with a clever guitar riff, and Bartell's song works pretty well, but stops short after a bridge before really sinking in. A brisk drum beat drives "Outside My Home," which drives furiously with another catchy hook to lyrics about the threats of modern urban life: "I think you know what I mean/ You hold the match and kerosene/ You pour it on the sheets." Verruto's "Better God" tells an amusing and timely story about various clerics, senators, jurors, and teachers laying down false morality, "My God is better than yours, God is better than her, God is better than him."
Not all of the songs work. "Breakfast Song" is a mid-tempo shuffle that never catches fire; "It's the Way" has a marching-band drum beat that doesn't match its rockabilly structure; and "Lord, I Wonder Why" comes across as lightweight filler.
Better are "Pop Song for You," a highlight by Verruto that has a catchy melody, fully realized arrangement, and while, like many of the songs here, is under three minutes long, sounds complete. "All Was Forgiven" also clicks as a simple countrified shuffle that sticks with the listener. On a disc with no other songs even four minutes long, the country ballad "Don't You Love Me Now" at over six overstays its welcome, despite a guest spot by local pedal steel whiz David Berzansky. The next tune, "Think About You Twice," is a third as long but a better listen, with a nice guitar hook anchoring a simple but effective pop-rocker about how the singer won't miss the cause of his heartaches for a second, after he sails out in the morning.
The High Rolling Loners took a while to get Match and Kerosene ready, but it has some interesting tunes and an overall loose, freewheeling spirit that many listeners will enjoy.