DAN GINDLING: What's Out There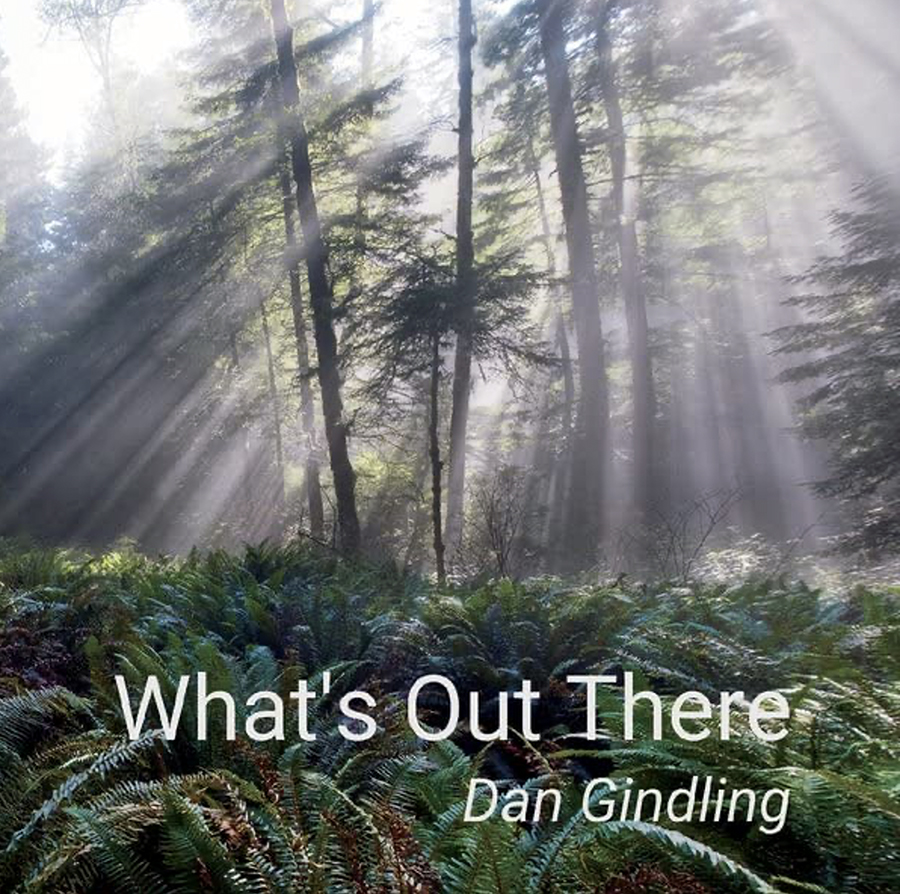 Dan Gindling's What's Out There is comprised of 12 self-penned songs in just over 46 minutes. It was recorded at Beautywood, Studio West, and Satellite Studio by Jeff Berkley, who produced and mixed it, and who also plays acoustic guitar, banjo, and sings backing vocals. Dan Gindling sings all lead vocals. Then we have Josh Hermsmeier on drums; Rick Nash on bass; Doug Pettibone on electric guitar and slides; Josh Weinstein on keys; Andy Geib on trombone; and Lauren Leigh on backing vocals. Robbie Robinson mastered it to a superb balance of instruments and vocals; I hear every word he sings without trying.
With a flippant and lighthearted approach to several of the songs on the album, Gindling seems to make a point of not wanting to take himself too seriously. In fact, he goes to great lengths to make sure of it, and it throws a layer of wash over the more serious and introspective pieces on the album. His melodic phrasing is inelegant at times, alternating between using too many angular words in a short space and then using one syllable words with too many notes. Lyrically I'm looking for more dexterity and grace, although I don't doubt his sincerity.
There is no tongue in cheek in this song. "Love Doesn't Take Sides" is a bittersweet discussion on love lost, moving on, and a bit of loneliness. The three-quarter time works for melancholy here, it makes me furrow my brow in angst. The steel features prominently at the opening of the song and continues, piano rises up here and there, while acoustic guitar is a consistent strum, as they play an extended 22-second intro. They set that tumbling, listless mood so well in motion that I get to know the character even before he starts singing about her. "She left California where a salted-breeze normally scented her hair. Today, a dry desert heat has cracked the skin on her feet, and once more made her aware that life's changes bring both pleasure and pain, which means she's starting all over again. Love doesn't sides." Lauren Leigh sings crystal clear harmonies on the repeated one-line chorus, "Love doesn't take sides." At 1:58 there's a short piano solo, followed by steel. As lonely as this song is, I still feel the hopefulness. In knowing that love doesn't take sides, it means she wasn't right or wrong, and that a perfect love may still be out there somewhere for her. At 3:26 Gindling does a call and response with multi-track backing vocals on the chorus, over and over, during the minute-long outro.
At five minutes, "Summer's Gone" is the longest song on the album. It opens with piano and electric guitar in an easy flow that leads me to think of the highway and a road trip, and, by gosh, if she isn't driving a Volkswagen bus down the coast. She's meandering in body and in thought, a little flat, and she's not quite sure of what she wants, to put down roots or run free and unencumbered. As the chorus begins at :48, livelier piano and electric guitar lift the mood, making it lighter and more resolute, while the line "Summer's gone" is repeated, letting me know that the season weighs heavy on her. The verses are short and backing vocals join the subsequent choruses in multi-track words and ohs and ahs that further the sense of letting go, now that summer is gone. Electric guitar takes a solo at 1:53, the notes are long and slippery with a slightly edgy tone, which leads to the bridge. "Summer's gone, she feels pages turn. Where her life is now, where her past is blurred. Summer's gone, but, of course, the world still spins to the beauty of her happiness within." Until now I hadn't realized she was happy, but it's at this point that she hits the road in earnest and takes off east. The arrangement, like the desert, is open and full of space. Now we hear the organ quietly under the verse and in long notes like the road; piano is sprinkled in to break up the view, and we're back to the chorus with those lovely backing vocals. As one whose least favorite season is summer, I can relate to this song. The last line of the song says, "A smile warms her face because autumn is coming. Summer's gone…" I know the feeling.
With a more upbeat tempo, "We Are a Nation of Immigrants" begins with banjo and bass that steadily drive the song to the opening chorus, "We are a nation of immigrants, sailed across on the roiling seas. We are a nation of immigrants, traveled to this land to be free." Tackling a sometimes-contentious topic, Gindling points out the connection to our own history and current day immigrants. Leigh's multi-track-backing vocals on the pre-choruses are full behind his voice and give weight to his conviction, as Berkley sings harmony on verses and subsequent choruses. There's a quick electric guitar solo at 1:44 that rises up as optimistic as the lyrics. Gindling's heart is big and bold as he sings, "So with our arms stretched wide and open, we'll make acceptance be our guide. Through diversity this country has survived and thrived." The instrumentation on the last chorus becomes sparce, accentuating the lyrics, his feelings and message are clear. "We are a nation of immigrants, you and me. We are a nation of immigrants, can't you see?"
"Halfway to the Moon" has a cool, hipster, '60s spy movie feel. Electric guitar begins it, followed quickly by a buttery organ riff, then it all abruptly stops to let in the lead vocals. Drums and bass drive it now. Single electric guitar strums on the ones, extra reverb on the voice, all contribute to that retro vibe, as more guitar is added, and the organ builds again to the stop. The second verse instrumentation is fuller with electric guitar low-note accents, and the keys add swirling spacey sounds. The bridge breaks open rhythmically with the drums doubling up on the bass and toms, and the multi-track-backing vocals going wild and slightly Star Trekian. The acoustic guitar solo at 1:42 is fresh and clean in welcome contrast to the movement so far, which seems to represent what we once perceived to be high tech and futuristic sounds. The last verse begins, "I'm halfway to the moon, I wonder if this mission will be my last. I dig my job but my heart keeps getting transported straight to our past to how I feel when caressed by your love. Wrapped in your cosmic charm, I'm halfway to the moon, and hoping soon I'll be landing back into your arms." The outro is the chorus repeating "I'm halfway to the moon," followed by lush backing vocals singing "oohs" as the organ eventually trails off.
Other tracks on the album are "I Never Knew," "She Walked to the Water," "What's Out There," "Lucky Day," "In a Summer Breeze," "All Love is Natural," and "Tesla to the Moon." It's available in hard copy and all streaming platforms. Have a listen and see what you think.