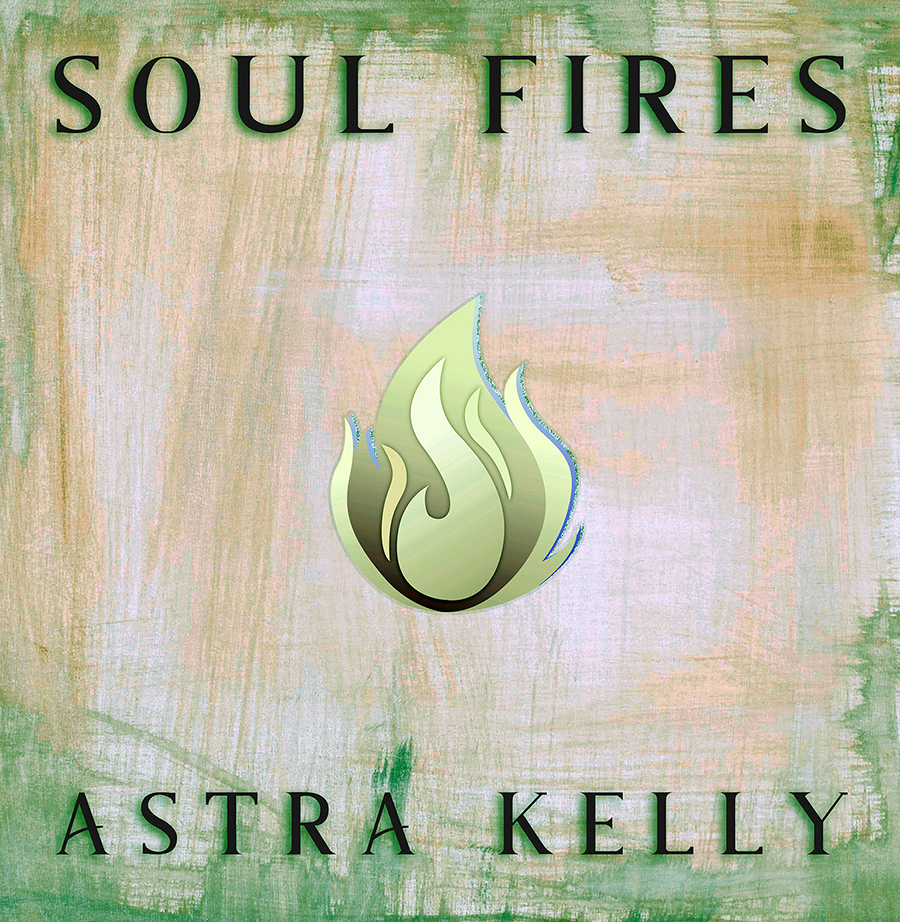 Coming Back to Inspiration
Astra Kelly's solitary voice rings out, "Moon rising on the land of all that is. Feet stomping on the Earth." Defiant and hopeful, Kelly starts us on a Soul Fires journey from loss to finding spirit and inspiration.
In mid-2022, Kelly's mother lost her long battle with cancer and Kelly found herself unsure of what to do with herself. "Everyone else had started working again after the pandemic and I hadn't yet and was not inspired. My friends were making albums and I had been living in my mom's house and taking care of her. We sold her house and I thought, "I'm not gonna rent a place and can't buy a house, so I'll just buy a car-house." From there Kelly says she threw herself "into the fires of RV life." She hit the road with her dog and cat for an undetermined amount of time—having never lived in or even driven an RV, with the goal of writing and finding her voice again. She came back successfully on fire with nine songs in the bag after months on the road collecting experiences.
The crux of Kelly's album is found in her poetic and vulnerable lyrics. As magical as her name, Astra Kelly draws from earth, space, and time to create a rich landscape of ethereal Americana perfection. From her song "El Cielo"
"Breathing in La Tierra. Everywhere I go, she's waiting for me. If I had everything I dreamed, I'd be different than who I've come to be. What if heaven and earth collide and there's no other side? We'll never know the reason why. When we're all just a part of this same damn beautiful life."
Wrapped up in hazy, purposeful, and delicate instrumentation from an all-star backing band, these words encompass all that Soul Fires offers. 
With only two pre-production rehearsals and two days in the studio, the intricacies and powerful dynamics must have been inspired by something supernatural. "We started playing these songs and their ideas flowed out and it was like wow!! I mean in that moment, experiencing these songs with the band was like the spirits of these songs were speaking to us. I had no idea how these songs were supposed to sound. I was just like, "Okay songs—whatever you want to be—show us." It was awesome and I've never experienced anything like that."
While Astra's album is sprinkled with nods to her mother, only one track directly addresses death and the process of grief, "In the Time of Dying." Her raspy, powerful voice soars: "Can we please talk about it!?" She challenges a common reaction to death, the hush and quiet. As if death was a dirty word. It was an impeccable choice to sing a capella in the last line of the song, her voice shaking and vulnerable right there for all of us to feel. We cry with her and it feels good and real.
Soul Fires is a beautifully cohesive album from top to bottom. The support from her notable band may be the reason why. Harley Magsino on bass (electric and upright) delivers a colorful performance on each track while simultaneously creating a safe space for other instrumentation to exist. Tony Econom on drums/percussion apparently used his hands on his kit often to match the raw and airy groove that much of the album required. The creative percussion choices are almost their own voice on this album. Joshua Taylor on lead guitar solidifies his growing reputation as one of the most necessary guitar players in this town. He matches each song with the perfect tones and sounds, as different as each song is but still distinctively himself. He and Sandi King also provides gorgeous and haunting backing vocals, with her flawless vocal support weaving in and out of Kelly's lead on most tracks with an ideal blend. (Listen to track 3 "Tell Me What You've Heard." The ending will transport you.) Jeff Berkley as producer and mixing engineer is evident on every track with his unmatched ear. There's just no other way these songs should have been treated. Every choice seems meant to be.
Kelly has been nominated for about 10 San Diego Music Awards and has yet to win, but it feels like this is her time. The album's winning combination of musicianship, lyrical content, and production is unbeatable. Astra is songwriting elite in this town, and this album will cement that for years to come.
Astra Kelly has a vinyl release party scheduled for Soul Fires as part of Studio West Live on September 8. CD/download and private streaming codes are available to purchase in person. Grab yourself a physical copy there and travel to the magical world where Astra Kelly resides on Soul Fires.
Soul Fires credits: 
All songs written by Astra Kelly
Co-written by the band
Produced, recorded and mixed by Jeff Berkley at Satellite Studios, San Diego
Astra Kelly: vocals and acoustic guitar
Tony Econom: drums
Harley Magsino: bass
Joshua Taylor: electric guitars and backing vocals
Sandi King: backing vocals
Jeff Berkley: banjo on track 5, additional guitar on tracks 2, 6, and 9