CLEOPATRA DEGHER: Pacific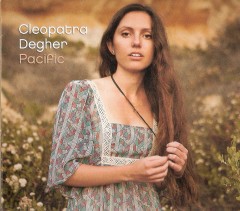 Music is a family affair for Cleopatra Degher; the Encinitas songstress is the daughter of Darius, who has played with Darius and the Magnets and Warren Zevon and released several solo CDs; sister Cordelia is a musician as well. Cleopatra released an EP in 2012, Restrung, with dad providing a lot of the musical backing, and she is back with Pacific, a full-length album of 10 original alt-folk songs. Darius produced and plays several stringed instruments on the primarily acoustic disc, with some upper-crust L.A. and local sidemen also on board backing her pleasant vocals.
Cleopatra writes songs that are loaded with lyrical imagery, not unlike her father, who is a poet and noteworthy storyteller; her songs often attempt to capture a snapshot of modern SoCal life. The disc opens with "California Forest Fire," and she paints the picture "I saw the sunset so orange and pink in the smog/ Glowing blue the red tide waves come rolling toward me in the sand/ As two seagulls have a distant dialogue." This may sound overdone, but the song actually clicks, with a catchy harmony chorus and nice pedal steel touches that keep the weighty lyrics afloat. "Look at Him" is an effective, finger-picked breakup song about a lost, guitar-playing lover sung in harmonies with backup singer Austin Burns, with Darius laying down intricate acoustic guitar lines. The highlight track is "I Saw the Sky," another tune packed with metaphors and clever, poetic words (on this tune by Darius). He almost goes overboard with lines like "At a schoolyard the children sang/ In a shimmer of falling leaves/ There were bees in the coral trees/ In the motion of many lives," but the catchy hook and sharp arrangement again grab the listener enough that the clumsiness of the tale doesn't bog it down.
Cleopatra scores points with her own lyrics on "Rebecca Wood," about a Millennial who has an iPhone, YouTube, and Facebook yet can't seem to start a conversation with friends who exist only in web photos. Of all of the message tunes here, this tune is probably the most topical and fully realized. Also, with six of the first seven tunes built on the same finger-picked verse/harmony chorus structure, this tune breaks that spell, picking up the beat with banjo and Hammond B3 licks. "I've Had Love All Along" also has some foot-tapping going on, another highlight that almost rocks with a great arrangement that includes some fine work by Darius on electric guitar and sitar. Cleopatra nails a slice of life in "Clockwatchers" as she sings about "Sun-kissed waitress takes her last order/ Clockwatchers always keeping the time/ She checked the time just seven times that hour."
Pacific provides fans of folk music some interesting new music that tells some vivid stories, sure to gain Cleopatra Degher new fans.