CHICKENBONE SLIM & THE BISCUITS: Damn Good and Ready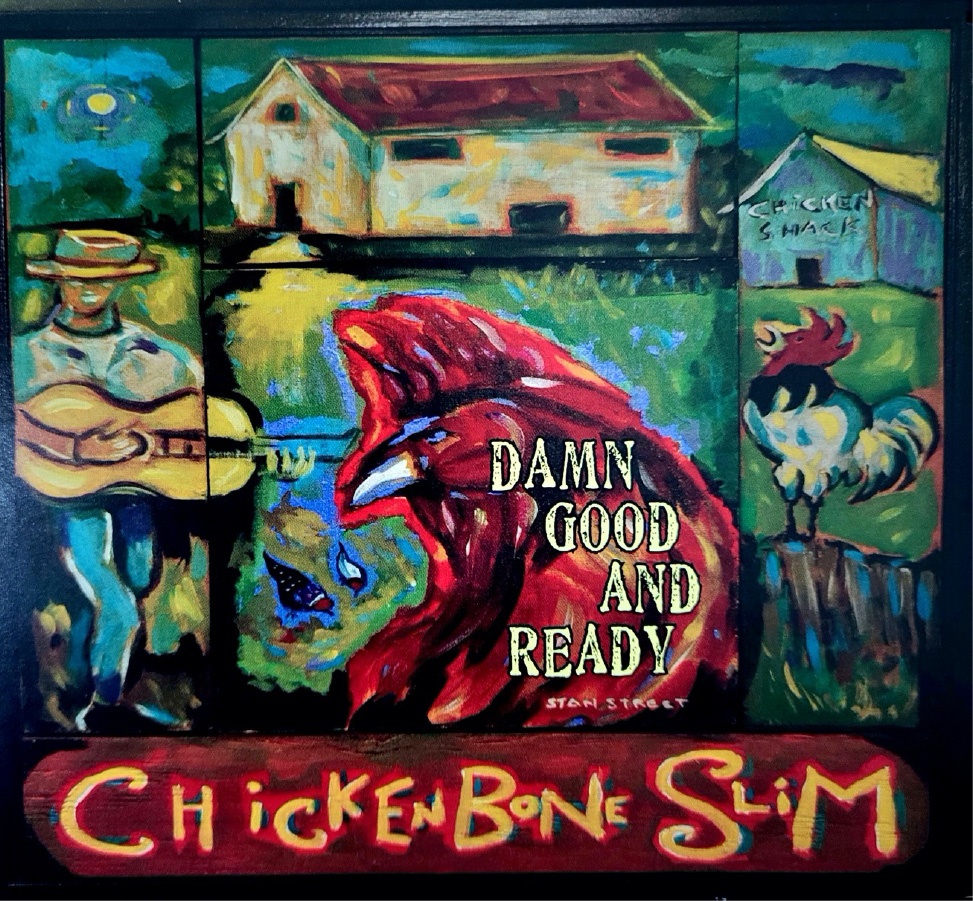 Damn Good and Ready is album number five from Chickenbone Slim and the Biscuits and it's just as greasy and buttery as the previous four. There's a good reason for that—it's his fourth recording with producer/engineer Christoffer "Kid" Andersen at Greaseland Studios. The music 'Bone makes has been described as roots rock for the 21st century and blues boogie with an Americana overdrive. When you ask him about it, he says, "Well, at heart I'm a blues man. When I heard real Chicago blues in my early 20s…that hooked me; the '50s through the early '60s was the heyday of Chicago blues. I started playing blues music because I liked roots rock. The Chuck Berry era, '50s music, sock hops, that style." The first two tracks from the new disc "High Ballin' Train" and "Let's Go Lindy" are a testament to that. You're incapable of remaining stationary; you have to get on your feet.
As you explore deeper into the album, the composition "Drink Me" is a boogie grinder and Laura Chavez' guitar is both menacing and unrelenting and you can't get enough. Like the song says, 'I'm what you need…I am water, Drink Me!' If you like your spirits a little more distilled and fermented, then the grungy "Ice in My Whiskey" will remind you of every roadhouse and juke joint you've ever passed out behind. The drum and guitar work between Marty Dodson and Laura Chavez put the spurs to this blues rocker.
Chickenbone says, "I've had a huge amount of other influences as time goes on, just like blues was influenced by other styles of music. I have my own vision of what Americana or roots rock should be." The country influence shines bright on "Rather Be Up" and "Deepest Blue" interspersed with the rockin' title track "Damn Good and Ready" and the screaming sax behind "Rock and Roll Soul."
This band and the entire production crew truly seem to enjoy spending time together and that feel really comes through on "I'm Buying" and the up-tempo "Old Cat Man." "Ty Cobb's Chiclets" and "I Don't Want to Talk About It" round out an album that's chock-full of blues, boogies, and shuffles. It's like old school, fun-filled rock 'n' roll and it's top-loaded with party rhythms and dance music. Damn Good and Ready has no boundaries.
The depth and breadth of this band can't be overstated. Chickenbone plays guitar, writes and sings, while Marty Dodson is masterful on drums and percussion. Justice Guevara handles all things bottom end; both stand up and electric bass and, of course, the amazing Laura Chavez who was just voted Best Blues Guitarist at the 2023 Blues Music Awards.
This disc of all original material was recorded at Greaseland Studios in San Jose, California was engineered, mixed, and mastered by Christoffer "Kid" Andersen. "When I was driving home from recording Damn Good and Ready, Chickenbone says, "I had this overwhelming feel of how gratifying it is to write songs for this band, and it's because of Laura Chavez, Marty Dodson, and Justice Guevara and, of course, Kid Andersen. Any combination of amplifiers you want, any sound you want, or vintage style—he'll get it for you. He plays virtually any instrument: keyboard, piano, sitar, guitar, bass or drums, you name it. He knows who plays well and who excels at each instrument. His wife, Lisa Andersen, helped out on vocals, and he brought in Eric Spaulding [Roomful of Blues, Duke Robillard] to play sax. The stuff that comes out of there has got the vintage feel but the modern fidelity."
Damn Good and Ready is Exhibit A.